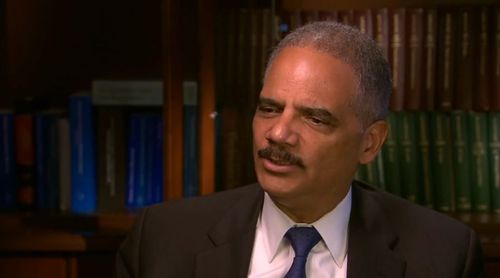 In an interview last night with NBC News' Pete Williams, Attorney General Eric Holder was asked whether the Justice Department will file a brief in the gay marriage cases currently before the Supreme Court. 
On Monday, SCOTUS is set to consider whether to take up marriage equality cases from five states – Utah, Oklahoma, Virginia, Indiana, and Wisconsin. 
Said Holder:
I expect that the Justice Department will file a brief and the brief will be consistent with the positions that we have taken in the past in support of same-sex marriage. I can't imagine that that would be — that we would take any other position in — while this president is in office, and certainly as long as I am attorney general, or anybody who is my successor.
When Williams followed up with a question asking whether the country was ready for gay marriage, Holder responded in the affirmative. 
Yeah, I think the country is ready for that. I think all the polls certainly show that. The reactions to the continuing number of court cases that have found same-sex marriage to be constitutionally mandated — the polls have shown that the American people, I think, are prepared to accept that. Now this has been a sea change. This is something that has happened, I think, relatively quickly. Part of it is generational. I talk to my kids, who seem, no problems with this, no issues with this at all. But I think it's more than a generational change. I think that people who know folks who are gay, who are lesbian, and who are their friends, their coworkers, they see the moral side to this. Um, it's a civil-rights issue. From my perspective, it is the civil-rights issue of our day — gay and lesbian equality.
Check out the full interview – in which Holder also discusses his early life and career, his relationship with President Obama, the work he's done on voting rights, Robert Kennedy, the housing crisis, ISIS and more – AFTER THE JUMP…