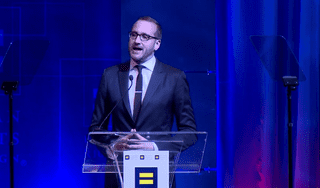 Chad Griffin, president of the Human Rights Campaign, formally apologized to members of the transgender community last Friday at this year's Southern Comfort Conference in Atlanta. The HRC has long-since dealt with widespread criticism of its seeming willingness to put trans-advocacy on the back burner in favor of issues affecting cisgender members of the queer community.
In 2007, the HRC publicly endorsed an early version of the Employee Non Discrimination Act that did not provide protections for individuals facing gender-based discrimination. At that time the HRC defended its decision arguing that by removing protections for trans individuals initially, ENDA would be easier to pass and subsequently update to bring transgender people into the fold.
"I am sorry for the times you have been underrepresented or unrepresented by this organization. What happens to trans people is absolutely central to the LGBT struggle," Griffin intoned. "And as the nation's largest LGBT civil rights organization, HRC has a responsibility to do that struggle justice, or else we are failing at our fundamental mission."
Griffin went on to assert that a fully inclusive version of ENDA was far from being all that the HRC could do to show its renewed support for the trans community. Acknowledging many of the socio-infrastructural challenges the trans community faces, Griffin expressed the HRC's desire to pursue substantive legislative change meant specifically to benefit trans individuals.
In rooms like this one, for years, you have been making the case that we've got to change society at a fundamental level by lifting up more trans people, your lives, and your stories.

You're right. And if there's one thing we've all learned in this movement, it's that once Americans come to really know us, it starts to become impossible to discriminate against us. And at our best, HRC offers an unmatched communications and public affairs platform to amplify LGBT stories across the country.
Read a transcript of Chad Griffin's apology to the transgender community AFTER THE JUMP…