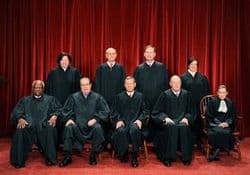 Attorneys General from Indiana and Wisconsin filed petitions with the Supreme Court Tuesday, asking the Court to hear each state's defense of their respective gay marriage bans that were both struck down by the 7th Circuit Court of Appeals. Notably, the 3 panel judge on the 7th Circuit ruled unanimously in favor of equality and against the bans—the first time such a decision was unanimous. The decision was written by Judge Richard Posner, whose pithy quips garnered media attention after he gutted the anti-equality arguments put forth by Indiana and Wisconsin. Now, the Supreme Court will have a chance to review Posner's ruling. Chris Geidner from BuzzFeed reports: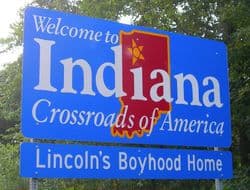 The petitions are the sixth and seventh petitions seeking a writ of certiorari, which is the technical way the Supreme Court announces that it is taking a case.
Indiana presents a somewhat different case in practical terms — although it has not, thus far, made a difference in the legal analysis — in that the state has no constitutional ban on such marriages. It only has a state law banning them.
Quickly after the states filed their petitions, and as expected, the plaintiffs responded to the two states' petitions, similarly urging the Supreme Court to grant the writs of certiorari: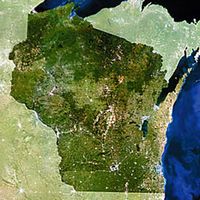 Lambda Legal and the ACLU, representing the couples in the Indiana case, responded to Indiana's certiorari petition, stating that the same-sex couples they represent "agree that the Court should grant review in this case because the issue is of fundamental importance to [the couples] and the country as a whole."
The ACLU, representing the couples in the Wisconsin case, responded to Wisconsin's petition on Tuesday as well.
Among the arguments put forth by both Indiana and Wisconsin, the most absurd assertion may have been that put forth by Indiana Attorney General Greg Zoller who, as Joe.My.God points out, argues,
"The court does not, and cannot, justify the assertion that Indiana's definition of marriage targets homosexuals. The statue itself makes no mention of sexual orientation, and as the case record in this case amply demonstrates, homosexuals often do marry members of the opposite sex in Indiana."