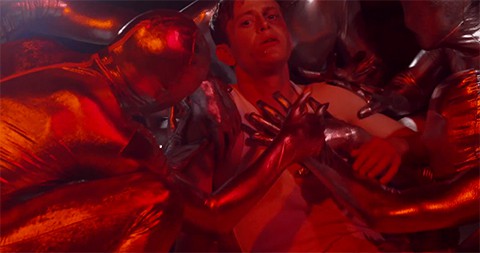 Mike Hadreas, a.k.a. Perfume Genius, has released a music video for his forthcoming single, "Grid." The video for the song takes the dramatic and irreverent spirit of his previous music video for "Queen" even further, leaving Hadreas "literally surrounded by his (hentai-clad) demons before confronting them head on and being devoured by them."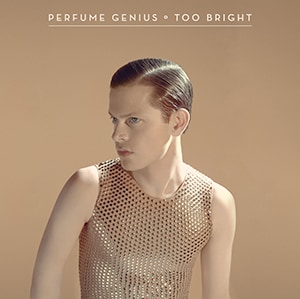 "Grid", along with Hadreas' previous single "Queen", is featured on his third album—Too Bright—due out September 21, that represents a dark departure from Hadreas' sophomore album Put Your Back N 2 It. Said Hadreas of his new album:
"A lot of these songs are me trying to claim some power in situations that would typically depress or alienate or victimize me.  Also, no matter how good I feel there is a darkness hanging, which I don't agree with - giving it a voice is an attempt at freeing it so it can potentially dissipate".
Hadreas also recently spoke with Stereogum about the "weird politics of being a gay artist":
I'll go into a venue and they won't take me seriously, or think I don't know what I want because I'm sort of impish or tiny or feminine. And that's frustrating. And that's almost what that song is too. I'm just as badass as anyone; my clothes are just more silken. But then I'll meet a dudey-dude band, like the Men, and they were super nice and really fun and easy to get along with. And even going to the South, I was terrified, but it was really friendly. It's just surprising. Then there's some asshole in some liberal area. That's just how it goes. I did a lot of interviews where I'd get these crazy introductions. In France I was being translated live for the radio show. It was like, "He is Perfume Genius: He is gay, he is sad, he is addicted to porn." And I had to stand up like, "Excuse me?" The first two, yeah OK, but I'm not addicted to porn! I like that that's their lead-in, like nothing about the music, just that I like to fuck dudes, basically.
Speaking of his style that often times includes wearing lipstick and heels, Hadreas says,
I'm just doing what I want. I'm not thinking, like, "Today I'm going to dress like a woman." I'm not even thinking about that. I'm just thinking, I want to wear this today, I want to be this today. It's not like an either-or thing sometimes. I know when I see pictures of some of these NYC queens it's inspiring because there's something sort of mystical about it still.
 Watch the video for "Grid", AFTER THE JUMP…