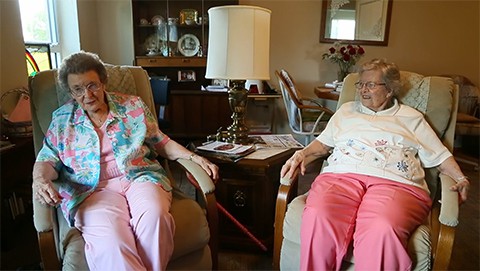 Earlier this month, we told you about Vivian Boyack (91) and Alice "Nonie" Dubes (90), the Iowa couple who finally tied the knot after being together for 72 years. The story of their wedding went viral and suddenly, two women who had learned to live very private and quiet lives were thrust into the spotlight. After numerous requests for interviews, Vivian and Nonie finally decided to open up and share their story. The Des Moines Register reports: 
They got flowers and letters from people they didn't even know.
For so long, their love was not public. But when the news broke about their Sept. 6 wedding, their story was spread across the Internet and social media. In one week, decades of silence ended. They had never before talked to anyone about their relationship.
"In all those 72 years, no one said anything about it, either negative or positive," said Vivian, 91, sitting across the dining hall table from Nonie, 90, on Wednesday at a Davenport retirement community where they have lived since 1987.
Though the couple says, "we've always been married in our hearts," their friend Jerry Yeast, whose known the pair since he was in college, noticed one remarkable change in the couple since they said "I do":
"I began to hear them addressing each other as 'sweetie' or 'dear' which they had never done before in public," he said. "They had learned to live with their heads down so long. And now they don't have to live with their heads down."
Watch the touching interview with the couple, AFTER THE JUMP…