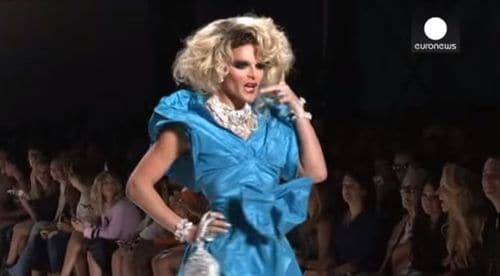 At New York Fashion Week, designer Betsey Johnson's "celebration of freedom in marriage" bridal drag ball was a smash hit – with gays, drag queens and wedding dresses galore.
Euronews reports:
"Trendy and transgendy. It's a riot. It's been the most fun to work on this show. A lot of more new, more abstract ideas. See-through plastic dresses and dresses made out of scuba fabric and horse hair," she said.
Johnson's naughty bride-themed collection for next season, cheekily named "Prenup", featured some rather unconventional outfits, including one shimmering number made out of tin foil cupcake wrappers.
Check out a video of the fashion show in action, AFTER THE JUMP…