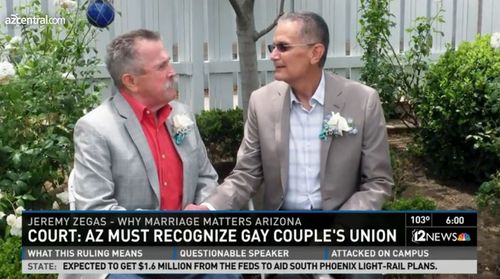 On Friday, a federal judge ordered Arizona to recognize the marriage of a gay man who lost his spouse to cancer last month and was subsequently denied death benefits because of the state's same-sex marriage ban.
Fred McQuire [top left] and George Martinez [top right], who had been together for more than 40 years, were married in California over the summer – shortly before Martinez passed away in August. McQuire proceeded to file suit against the state, arguing that he would suffer emotional and financial harm from not being listed on Martinez's death certificate.
The Washington Post reports:
U.S. District Judge John W. Sedwick agreed that he should be listed, ordering the Arizona Department of Health Services to "prepare, issue, and accept a death certificate" that lists McQuire as Martinez's spouse. His ruling is very limited, focusing only on this one couple, but it also touches on the larger issues involving same-sex marriage, noting that arguments suggesting Arizona's ban does not discriminate "lacks merit."
The AP adds:
Sedwick sided with the state, however, in ruling that McQuire hadn't shown irreparable harm based on the financial consequences of not having his marriage recognized in Arizona, ruling that McQuire will not be able to succeed in getting Social Security and Veterans Affairs benefits.
The Arizona Republic reports that following the ruling, McQuire headed ffrom Phoenix to Tucson to get the death certificate.
"George will be very proud of me being here," McQuire, who uses a cane and has hand tremors related to Parkinson's disease, said during the hearing Friday morning. "I need to let people know I was married. George was my life partner for over 40 years. We loved each other, and he would love to have my name on his death certificate."
For more on the ruling, check out the video AFTER THE JUMP… (warning: autoplay)
Earlier this week, the Ninth Circuit Court of Appeals heard challenges to gay marriage bans in Idaho and Nevada. Any ruling made will apply to Arizona also.