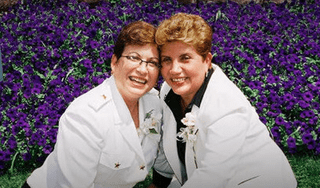 Lambda Legal is officially seeking a summary judgment from the District Court of Puerto Rico that would effectively put an end to the district's same sex marriage ban. In June, Lambda Legal joined Puerto Rico Para Tod@s, an LGBT non-profit organization, in supporting the Conde v. Rius Armendariz class action lawsuit
Following a ceremony performed in Massachusetts Ivonne Álvarez Velez and Ada Conde Vidal became Puerto Rico's first married lesbian couple. Since 1999, a Puerto Rican amendment to the commonwealth's civil code has made it so that Puerto Rico does not recognize same sex marriages–even those performed in other jurisdictions. Conde, a lawyer by training, filed the suit after realizing that she would be barred from making medical decisions on behalf of her ailing daughter.
"If she dies, I want my marriage legally recognized," Conde explained to the Washington Blade this past March. "If I am not recognized, I will not have any rights to request her estate."
Conde and her partner are joined by four other gay and lesbian couples, two of whom are looking to actually be married within Puerto Rico, while the others seek to have their pre-existing marriages recognized.
"All families deserve to have their love and commitment recognized in Puerto Rico," said Omar Gonzalez-Pagan Lambda Legal's staff attorney working with Puerto Rico Para Tod@s. "They need the protections only marriage can provide as soon as possible, without discrimination."
Read Conde v. Rius Armendariz's full legal brief, AFTER THE JUMP…
Conde Pr 20140625 Amended-complaint 0