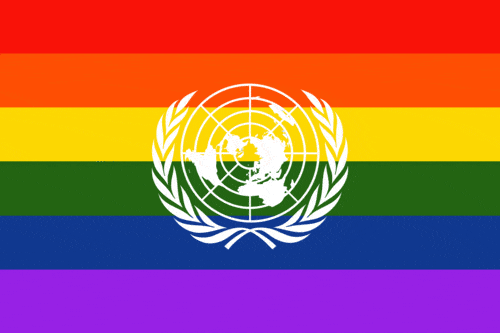 Earlier today the United Nations Human Rights Commission approved 25-14 a resolution opposing anti-LGBT violence and discrimination, The Washington Blade reports: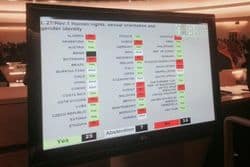 The U.S., along with Argentina, Austria, Chile, Costa Rica, Cuba, Czech Republic, Estonia, France, Germany, Ireland, Italy, Japan, Mexico, Montenegro, Peru, Philippines, South Korea, South Africa, Macedonia, the U.K., Venezuela and Vietnam voted for the proposal. Algeria, Botswana, Cote d'Ivoire, Ethiopia, Gabon, Indonesia, Kenya, Kuwait, Maldives, Morocco, Pakistan, Russia, Saudi Arabia and the United Arab Emirates opposed it.
Burkina Faso, China, Congo, India, Kazakhstan, Namibia and Sierra Leone abstained.
The U.N. Human Rights Council before the final vote rejected seven proposed amendments put forth by Egypt, Uganda, Pakistan, South Sudan and other countries that sought to strip LGBT-specific language from the proposal
Said U.S. Ambassador to the United Nations Samantha Power:
I am very pleased that the United Nations Human Rights Council adopted a resolution today to combat discrimination against lesbian, gay, bisexual and transgender (LGBT) persons. This is only the second time in its history the Human Rights Council has adopted a resolution on LGBT rights, and the first time it has done so with a majority of its members. This resolution mandates a much-needed UN report that will investigate and bring to the world's attention the violence and discrimination faced by individuals around the world simply because of their sexual orientation and gender identity.
Read the resolution, AFTER THE JUMP…
Buzzfeed adds that much attention was paid to South Africa's vote – due to recent concerns that the country might slowly be turning away from its pro-LGBT status in the region. The country ultimately voted for the resolution, but LGBT activists close to the negotiations said it worked to water down the resolution before the vote.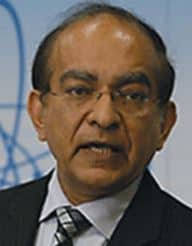 In remarks delivered following the vote, South African Ambassador Abdul Samad Minty [pictured] made clear he felt squeezed by its historic commitment to LGBT rights — it was the first country in the world to protect LGBT rights in its constitution — and a desire to preserve relationships with other African countries that have recently enacted severe anti-LGBT laws like Uganda and Nigeria.
"South Africa believes that no person should fear for their safety or be deprived of their dignity because of their sexual orientation or gender identity," Minty said, but blasted "divisive" steps taken by some donor nations to "use development aid to shift policies and laws in some countries," an apparent reference to adjustments made by the United States and some European countries in contributions to Uganda following enactment of its Anti-Homosexuality Act earlier this year.
[vote count photo via Twitter]