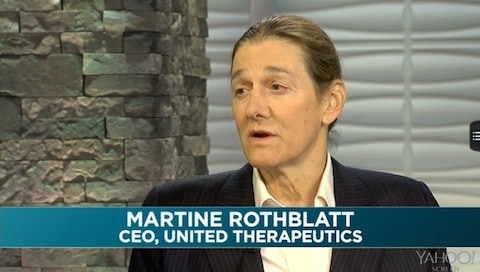 As a transgender woman, 59-year-old Martine Rothblatt, the highest paid female executive in the U.S., has a unique perspective on gender in the workplace, reports Yahoo! Finance.
In 2013, Rothblatt made $38 million as the CEO of United Therapeutics, a $6 billion biotech firm she founded to find a treatment for pulmonary hypertension after her daughter was diagnosed with the disease.  She also helped found both GeoStar, a satellite based navigation system and Sirius Radio, a satellite radio service.
Rothblatt, who transitioned in 1994 at the age of 40, says that as a transgender woman, one of the unique insights she has is "a huge appreciation for all of the privileges I received as a man."
"As the oldest son I was expected to do great things… but so many times it's the oldest son that gets that encouragement and not the oldest daughter. Those things kind of percolate and when all is said and done, only 11 of [the 200 highest paid] CEOs are women because of that."
Optimistic that conditions will continue to improve for women in the workplace, she believes that there's a "pervasive hangover from thousands of years of patriarchy" that men are intrinsically smarter than women.
She continues that the "motherhood penalty and fatherhood bonus" – having children tends to help the careers of men but hinder those of women – is "due to a complete misunderstanding and lack of appreciation for the 360 degree skills that go into raising a child. I'd say that if you can raise a child you can raise a company."
Watch an interview with Rothblatt, AFTER THE JUMP…
And if you missed our post on Amazon's excellent new original series Transparent, which follows a Los Angeles family with three adult children as they cope with their father's coming out as a transgender woman, you can check that out HERE.