Connie Wilson [right],  who changed her last name after marrying her wife Aimee Wilson in California has been refused an accurate driver's license by the Texas Department of Transportation because the name change was obtained through a same-sex marriage, The Texas Observer reports: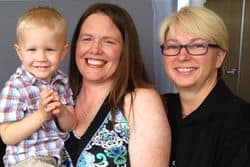 This summer, the couple relocated to the Houston area with their three children for work. With her California driver's license nearing expiration, Wilson took her documents to a DPS office in Katy last week to obtain a Texas driver's license. When a DPS employee noticed that Wilson's name didn't match her birth certificate, she produced the couple's California marriage license identifying her spouse as Aimee Wilson.
"Her only words to me were, 'Is this same-[sex]?'" Connie Wilson recalled. "I remember hesitating for probably 10 seconds. I didn't know how to answer. I didn't want to lie, but I knew I was in trouble because I wasn't going to be able to get a license."
Wilson eventually responded that although California doesn't differentiate, she happened to be married to a woman.
"She immediately told me, 'You can't use this to get your license. This doesn't validate your last name. Do you have anything else?'" Wilson said. "She told me I would never get a license with my current name, that the name doesn't belong to me."
She was told that in order for her to secure an accurate driver's license, she must obtain an order from a state court changing her name to Wilson – a choice she claimed would cost at least $500 and have no guaranteed outcome. 
"My name is already legally Wilson," she said. "I don't know if a judge will even grant me a name change from Wilson to Wilson."
Check out the full story over at The Texas Observer HERE – which also mentions how Wilson's inability to get an license reflecting her legal name is jeopardizing her family's ability to find housing in Texas and secure disability benefits for one of her children.