As we reported back in May, the Census Bureau has officially amended its definition of "families" to include married, same-sex couples.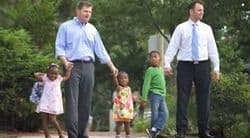 The Charlotte Observer reports:
In prior years, the U.S. Census Bureau counted such couples as "unmarried partners," even if they were legally married. But now, starting with the new annual American Community Survey, they are in among the family totals. […]
Same-sex couples who live together but are not married are still counted as "unmarried partners," the same designation for unmarried opposite-sex couples. The Census Bureau has counted same-sex couples since 1990.
The Washington Post added back in May:
Because of the large disparity between the number of gay and straight married households, combining the two is not expected to have a significant effect on the statistics that scholars and planners use to analyze how families are changing. Its significance is largely symbolic of the growing acceptance of gays in American society.