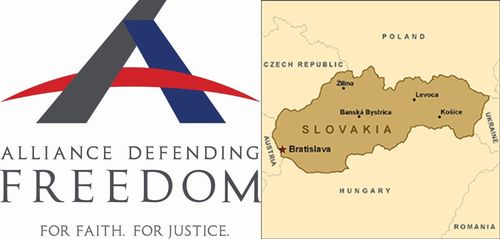 The anti-gay Christian legal organization Alliance Defending Freedom (a group whose efforts promoting bigotry abroad were profiled in the HRC's Export of Hate" report) has begun lobbying Slovakia's constitutional court to allow activists to place a referendum on the country's ballot that would reinforce the current bans on gay marriage, adoption, and domestic partner protections, Right Wing Watch reports. 
"The people of Slovakia should have the freedom to preserve marriage and family if they so choose," said Alliance Defending Freedom senior legal counsel Roger Kiska, who filed an amicus brief with the court. "This referendum will allow Slovaks to affirm current Slovak law and important social values, which is perfectly acceptable under the Slovak Constitution." […]
More than 400,000 citizens signed the petition supporting a referendum, according to Roger Kiska—more than the required number of signatures. However, Slovak President Andrej Kiska asked the Constitutional Court to review the measure because of a provision in the country's constitution that forbids holding a referendum to change "fundamental rights and liberties."
In June, the Slovakian parliament approved 102 to 18 a constitutional ban on same-sex marriage.
Back in 2010 the country's first gay pride parade was canceled after attacks from right-wing skinheads.