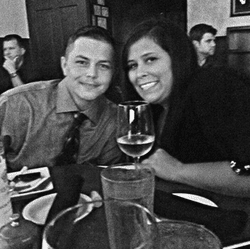 Nick and Jessica Elliott Fulgham are at the center of the American Family Association's latest media offense against marriage equality because of the couple's personal history. Nick, a trans man, is legally registered as being biologically male within Mississippi, where he married his wife late last month. Nick's birth certificate, the AFA contends, invalidates the marriage given that same-sex marriage is not yet legal in Mississippi.
Bryan Fischer, a vocal spokesperson for the AFA and host of one of its online programs, took to his platform to publicize private information about the Fulghams in an effort to draw more unwanted attention to their personal lives.
"Two lesbians getting married could not possibly be more illegal and unconstitutional anywhere in the United States than in Mississippi," the organization said in an inflammatory statement on its website.
"Nick and I love and stand behind each other and will do whatever we have to so that we ensure our rights and prove we did everything legally," Jessica told local news station WSFA."We aren't second-class citizens; we are people just like everyone else."
Despite the AFA's vitriolic campaign against them, the married couple has found acceptance and support within their local community. Together, the Mississippi Gulf Coast Rainbow Center and the Dandelion Project are holding a joint potluck reception to honor the couple's nuptials.