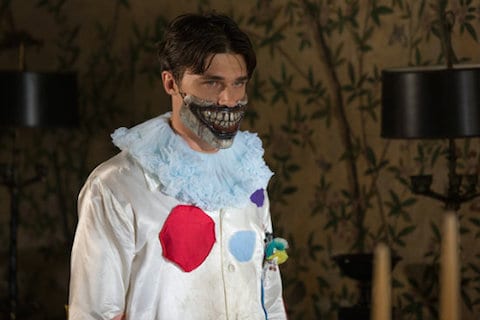 First off, the good news: In addition to Neil Patrick Harris and David Burtka joining the end of this season, American Horror Story vet Lily Rabe is returning. And! She's revisiting one of her previous roles in the series.
But now the bad news … tonight's episode was not the strongest. As the titular villain for this year's two-part Halloween episode, you would think Edward Mordrake (Wes Bentley) could have been a bit more menacing. Sure, he was ultimately after a soul to drag back to Hell or something like that, but his most immediate threat was to talk to you until you cry. Not sure how I feel yet about whom he selected, but I'm already surprised about how sad I am to potentially say goodbye to his chosen one.
Without further ado, let's pop a squat on our rusty nail toilet and settle into this week's recap, AFTER THE JUMP …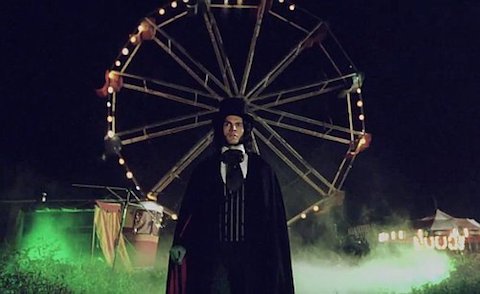 The ghost of Edward Mordrake (Bentley) is still floating throughout the campgrounds, going performer to performer and trying to nag everyone into telling him their deep, dark secrets. Beware the ghost of Edward Mordrake; he might gab your ear off or force you to share a vulnerable moment with him like you're two best friends at sleep away camp swapping secrets between bunk beds late at night.
Basically, he's on a tour du misery. His backward face is a bit of a gossip and just lives to hear folks dish on the absolute worst thing to ever happen to them. So one by one we see some of our freaks spilling the T on their troubled pasts. You don't know a freak until you've walked a mile in his clown shoes, or whatever.
Legless Suzi (Rose Siggins) shanked a guy real good because she was jealous of his legs, while Paul the Illustrated Seal (Mat Fraser) covered his body in tattoos to become the monster everyone already thought he was. (Not his face though, because it was too handsome.) As sad as their sob stories may be, they've got nothing on Fraulein Elsa (Jessica Lange).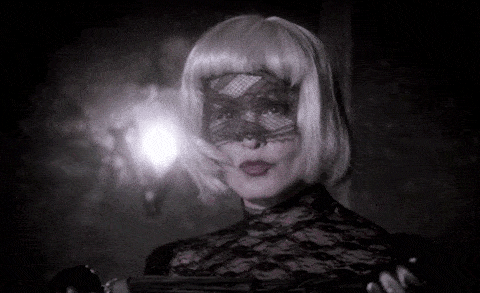 To understand what makes the fair fraulein tick, we'll have to go back to the Weimar Republic in 1932. Life was a cabaret, old chum, and Elsa was capitalizing on the sexual hedonism of the time, step by step, mile by mile, man by man. One boy, an army man, was particularly fond of Elsa's brand of sadomasochistic sexual humiliation. (I still would probably choose the toilet covered in rusty nails to any bathrooms at Port Authority, for what it's worth.) Her work soon drew the attention of a group of onlookers she called The Watchers. These Watchers produced films of a certain distinction. The kind of thing that even the darkest recesses of Tumblr would frown on. One night, they drugged Elsa and made a film cutting off her legs with a freaking chainsaw. Good god. 
Now that sounds like a particularly compelling tragedy to earn a ticket on the Mordrake Misery Express. But, hark! There's someone else he needs to see.
Out in the woods, the older girl that's been kidnapped by Twisty (John Carroll Lynch) enlists the helps of the older brother that was taken in last week's episode to wriggle out of her knots. Once the clown arrives and unlocks the cell of his captives, the older girl gives Twisty a hard cross-body check and hight-tails it out of the trailer.
She doesn't get too far before Twisty recaptures her, but they're spotted by Jimmy (Evan Peters) and Esmerelda (Emma Roberts), who have found themselves stranded out of gas after curfew. He goes after them to help, but, as no good deed goes unpunished, they find themselves in the clown's clutches after a swift thwack from Dandy Mott (Finn Wittrock).
The clowns set up a makeshift stage show out in the woods, while Dandy gets ready to saw Esmerelda in half. Jimmy is able to wriggle himself from his knots (which, you guys, maybe you should google how to tie a better knot?) and gives Dandy a well-deserved thwack of his own. The captives scatter, save for Jimmy whom is captured once again by Twisty. Esmerelda sends the children to the road and then leads Dandy off their trail.
That's when Mordrake arrives for his one-on-one interview with Twisty. Turns out, Twisty started as just a simple clown. Simple in that he wasn't yet a murder clown, and simple in that he was also sort of slow. Some of the freak performers at his circus made him believe the police were coming to arrest him because children were alleging he acted inappropriately. Simple Twisty couldn't comprehend all this. He was a good man! He didn't belong in jail! So he ran. Unfortunately, he couldn't run far enough, and rumors of his inappropriate behavior followed him. Devastated that he couldn't keep clowning, Twisty takes a big ol' taste of a shotgun and attempts to kill himself, (hence his mangled lower jaw and presumably massacred top/back of head). He kidnapped the kid and the older brother in an attempt to treat them well, give them candy and never make them do chores. He took the older girl so she could be their babysitter. He's just trying to be a good clown!
Twisty's inability to recognize the darkness within him is cause enough for Mordrake to select him as the latest addition to his crew. They make it official with Mordrake stabbing Twisty to death and claiming his (only slightly less mangled/terrifying) spirit.
Jimmy is hailed as a hero for saving the neighborhood kids. He tells the cop that everyone should know the real hero is the guy they locked up and let get murdered, Meep. When the young Darling gets back to the grounds, he's soon met by a slew of grateful townsfolk, eager to shake his hand and get to know the performers. Fraulein Elsa seizes this opportunity to be get her "step right up" on and sell these folks some tickets. Now that the curfew's lifted, Elsa is making some changes to the show, including moving Dot and Bette (Sarah Paulson) from headliner to warm-up. Also, here's Denis O'Hare's grifter, Stanley, trying to get a ticket to the sold-out show and casually dropping to Elsa that he works in Hollywood.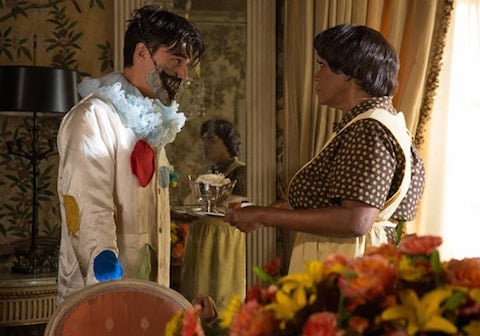 Meanwhile, at the Mott home, Dandy returns wearing Twisty's terrifying mouth mask. Patti LaBelle is still having absolutely none of it. But, this time when she tries to sass him, Dandy slices her throat. Oh no! R.I.P., Patti LaBelle. You did a hilariously adequate Woody Woodpecker impression.
What did you think of tonight's episode?