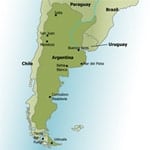 For the first time, a person has been granted asylum by the Argentinian government after suffering harassment based on sexual orientation. 'Gene,' the gay Russian man who fled to the South American country, has been given the "condition of refugee" according to the Argentine Federation of Lesbians, Gays, Bisexuals and Transsexuals (FALGBT), who 'Gene' contacted for help two years ago. 
NVO News reports:
Argentina's National Refugee Commission accepted the petition after acknowledging in a report the harassment suffered by the 28-year-old man and the lack of government protection for sexual minorities in Russia…
We hope that starting with this first case, Argentina will be positioned as a refugee destination," FALGBT president Esteban Paulon, who took Gene's case to the government commission, told EFE.
We are sending our well wishes to 'Gene' and our thanks to Argentina and FALGBT.