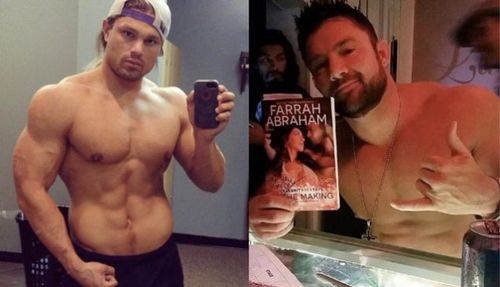 You may have missed: Ebola Hysteria is Going Viral. Don't Fall for These 5 Myths.
After realizing that they sat near Ebola-infected nurse Amber Vinson on an airplane, male strippers Axl Goode and Taylor Cole have elected to put themselves into a self-imposed quarantine at the suggestion of the CDC. The pair of adult performers came into close contact with Vinson on a flight from to Dallas from Cleveland where they had attended Romanticon, an erotic novel convention.
"I had just come back from a book conference and while there I read on how ebola affects the body and what it does when you contract the disease and how terrible it is," Good told the AP via a Skype interview. "So certainly–a lot of fear, a lot of panic. It took a while for it to hit me. That was pretty scary."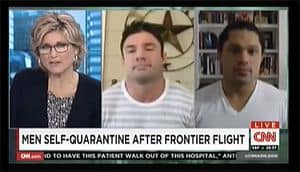 For the next 21 days the CDC is asking Goode and Cole to remain within their houses and at least three feet away from anyone. The men are not allowed to board planes or cruise ships, and while the quarantine is currently voluntary, it is likely to be made mandatory.
The reasoning behind Goode and Cole's quarantine stems from the CDC's desire to assuage public fears about the threat of an Ebola outbreak within the U.S. Neither of the men reported having come in direct contact with Vinson or being exposed to any of her bodily fluids in the course of their flight. Though the media's ebola-panic narrative has spooked 40% of American adults into worries about potential infection, the actual mechanics of ebola transmission make it exceedingly difficult to transmit in most circumstances.
Amber Vinson became infected with the virus after treating Thomas Eric Duncan, a Liberian man who began presenting symptoms and eventually died in Dallas, Texas. Duncan, who was visiting his wife and son who live in the U.S., was likely exposed the virus in Liberia while caring for other stricken by the disease. Upon coming to the U.S. and seeking medical attention, Duncan was met with a fair amount of gross negligence due to not having insurance.
By the time the Liberian man had been admitted to a local hospital and administered the experimental drug brincidofovir, far too much time had passed and he died. Vinson's infection is due to the fact that she had much more consistent and direct contact with Duncan and his soiled clothing.
Watch Goode and Cole's interview with CNN's Ashleigh Banfield about being asked to put themselves into quarantine AFTER THE JUMP…