To Russia With Love, a new documentary from EPIX narrated by Jane Lynch, takes a closer look at what life is like for LGBT people in Russia and at the convergence of sports, human rights and activism that took place during the Sochi Olympics earlier this year. As the film's synopsis notes, "LGBT athletes and activists [had to] choose whether to risk their own safety by speaking out against Russia's anti-gay laws." The doc follows out figure skater and commentator Johnny Weir and official US Olympic delegate Billie Jean King as they come to Sochi and meet a 17-year-old gay Russian named Vlad who details the tragic truths of the hardships faced by LGBT people in one of the world's most virulently anti-gay nations. The film also features Jason Collins, Stephen Fry, Greg Louganis, Blake Skjellerup and Mark Tewksbury.
Watch young Vlad talk about his experience of Russia's hatred for the LGBT community, along with his meeting Weir and King along with a trailer for the documentary, AFTER THE JUMP…
The documentary will debut on EPIX on October 29 at 8 PM.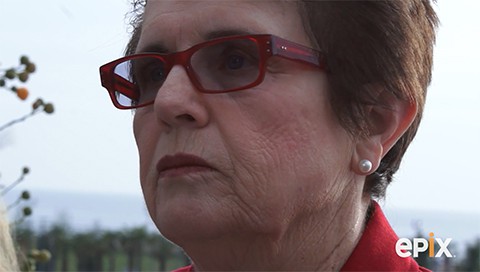 To Russia With Love: Clip 1 from EPIX PR on Vimeo.
To Russia With Love: Clip 2 from EPIX PR on Vimeo.
To Russia With Love: Clip 3 from EPIX PR on Vimeo.