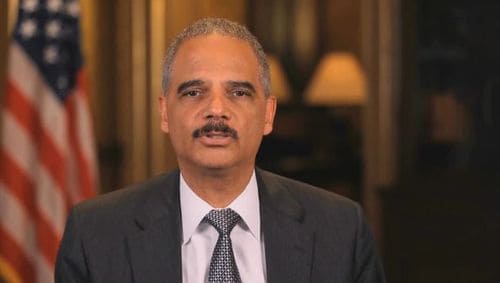 Responding to the Supreme Court's marriage decision last week, Attorney General Eric Holder announced today that the federal government will begin recognizing same-sex marriages taking place in Indiana, Oklahoma, Utah, Virginia, Wisconsin, Nevada, and Idaho – with additional states likely to follow.
Said Holder:
"I am pleased to announce that the federal government will recognize the same-sex marriages now taking place in the affected states, and I have directed lawyers here at the Department of Justice to work with our colleagues at agencies across the Administration to ensure that all applicable federal benefits are extended to those couples as soon as possible.  We will not delay in fulfilling our responsibility to afford every eligible couple, whether same-sex or opposite-sex, the full rights and responsibilities to which they are entitled.
He continued:
The steady progress toward LGBT equality we've seen – and celebrated – is important and historic.  But there remain too many places in this country where men and women cannot visit their partners in the hospital, or be recognized as the rightful parents of their own adopted children; where people can be discriminated against just because they are gay.  Challenges to marriage restrictions are still being actively litigated in courts across the country.  And while federal appeals courts have so far been unanimous in finding that bans on same-sex marriage are unconstitutional, if a disagreement does arise, the Supreme Court may address the question head-on.  If that happens, the Justice Department is prepared to file a brief consistent with its past support for marriage equality. 
Watch Holder's full remarks HERE.
In addition to the seven states above, marriage equality has also come to West Virginia, North Carolina, and Arizona (announced earlier today).
Gay marriage began in Alaska but has since been put on hold while the state appeals a pro-equality ruling to the Supreme Court (expect marriages to resume later today)
A federal court ruling in the challenge to Wyoming's gay marriage ban is expected Monday, with Governor Matt Mead saying the state will respect whatever decision is made.