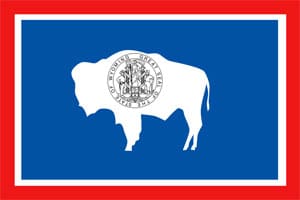 U.S. District Judge Scott Skavdahl has struck down the state's gay marriage ban but his ruling has been put on hold until 5 pm Thursday or until the defendants have officially said they will not appeal, the Casper Star-Tribune reports.
Earlier today we reported that Wyoming Governor Matt Mead said at a debate last night that the state should not appeal.
NCLR and Wyoming Equality filed suit last week demanding that the state comply with the 10th Circuit ruling handed out earlier this year following the Supreme Court's refusal to hear its appeal.
A hearing was held yesterday.
According to NCLR:
The case was brought by Wyoming Equality and four same-sex couples who requested an immediate order directing state officials to comply with two decisions of the U.S. Court of Appeals for the Tenth Circuit establishing that a state's refusal to allow same-sex couples to marry violates the U.S. Constitution. The U.S. Supreme Court on October 6th let those appeals court decisions stand, meaning that all states within the Tenth Circuit, including Wyoming, must comply with those decisions.

The plaintiff couples are Anne Guzzo and Bonnie Robinson of Laramie, Carl Oleson and Rob Johnston of Casper, and Ivan Williams and Chuck Killion of Cheyenne, who previously filed a state-court lawsuit challenging Wyoming's marriage ban. Also joining the lawsuit are Brie Barth and Shelly Montgomery of Carpenter, who attempted to obtain a marriage license in Wyoming after the Supreme Court decision but were refused. Wyoming Equality is the state's largest civil rights organization dedicated to securing full equality for Wyoming's lesbian, gay, bisexual, and transgender community. Its members include same-sex couples across the state. 

Each of the couples wishes to be married in Wyoming or to have their existing marriage respected by the State of Wyoming. The requested order would remain in place while the plaintiffs' federal case proceeds.
Update: Governor Matt Mead has announced he will not appeal the ruling, saying:
"This result is contrary to my personal beliefs and those of many others.  As in all matters, I respect the role of the courts and the ruling of the Court…While this is not the result I and others would have hoped, I recognize people have different points of view and I hope all citizens agree, we are bound by the law."
Developing…
Here's the ruling:
2:14-cv-00200 #44 Wyoming Injunction & Temporary Stay by Equality Case Files