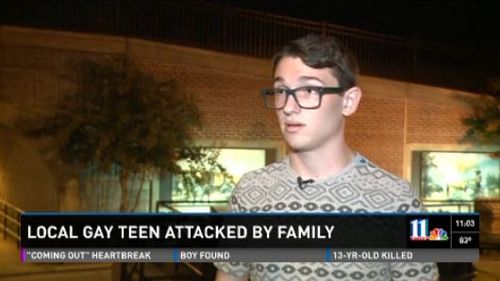 Daniel Pierce, the 20-year-old Georgian whose video of his family's verbally and physically abusive "pray the gay away" intervention back in August went viral, has been named to the Board of Directors of Lost-n-Found Youth, GLAAD reports:
Lost-n-Found Youth is a non-profit organization providing temporary housing, job search assistance, counseling, and other services to homeless LGBT youth. Pierce is the first former client of Lost-n-Found Youth to join the organization's Board of Directors. His appointment is part of a larger effort to bring broad perspectives and skills to the organization's leadership. 
GLAAD adds Pierce is using a portion of the nearly $100,000 he raised in the wake of the video's release to help Lost-n-Found build a new shelter for LGBT homeless youth that will reportedly triple the capacity of the organization's current shelter. 
Said Pierce:
"Lost-n-Found was there for support from the earliest moments and they stepped in before I ever got to the first critical 48 hours of homelessness," said Pierce. "Their quick response is proof that there is a safe place in Atlanta for youth like me to turn to for support. Even though my personal story was extreme, I hope my experiences can continue the dialogue about GLBTQ youth homelessness and get people off the street by engaging the community."
More info on Lost-n-Found can be found here.