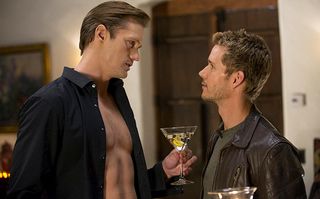 GLAAD's annual Where We Are On TV report detailing the depictions of queer characters on network and cable television has just been published and its findings generally positive. The report is broken down by whether a show is a network or cable broadcast in addition to a character's status as either a recurring role or series regular.
Overall the number of LGBT-identified characters on television is up slightly at 3.9% over 3.3% last season. That figure is down from an all-time high of 4.4% in 2012, and while television as a whole is becoming more diverse in terms of queer representation, cable programming is outpacing its network counterparts.
HBO programs like Looking, True Blood, Game of Thrones, and Girls made the network a standout compared to its competitors. Overall cable's number of LGB series regulars has jumped from 42 last year to 64 this year, and those characters much more broadly reflect the racial diversity within the actual LGB population. While the overall number of racially diverse LGBT characters of color is steadily improving, the details of the landscape are not without their complications.
"It is heartening to see an uptick in Black representations on primetime television, but it is key that we remain vigilant about improving the quality of those portrayals," commented Rashad Robinson, executive director of ColorofChange. "Too often media outlets rely on one-dimensional, stereotypical images of Black people, instead of the dynamic, complex portrays hit shows like Scandal suggest viewers actually want to see."
Read GLAAD's full Where We Are On TV report AFTER THE JUMP…