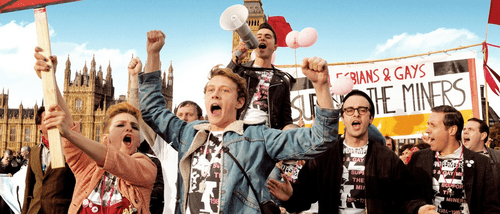 Have you seen PRIDE yet? It'll make you feel like cheering.  
Last weekend while Denzel Washington was making news with yet another big hit in THE EQUALIZER (good for him but when is he going to challenge himself?) the new film that won the most crowded theaters was actually PRIDE (previously reviewed) the true life LGBT story of a group of activists in the 1980s that stood up for striking miners during Margaret Thatcher's bullying reign.
This surprisingly entertaining film about a tough subject is on its way to being at least a small success. The film was even more popular later in the weekend which means that the coveted "Word of Mouth," which can trigger long runs, is there. CBS Films knows that they'll have to nurture this one along to sleeper hit status so they'll be expanding carefully. They'll add more theaters this Friday and additional cities follow on October 10th. If you've already seen it tell your friends how much you enjoyed it, or see it again with them. Support great gay films so that we get more of them!
Just before opening weekend I had the opportunity to talk with the director Matthew Warchus. He's best known for stage productions (winning the Tony for God of Carnage) but he's already working on his follow up to Pride, a big screen adaptation of the Broadway hit Matilda The Musical. He'll start filming that one in about two years.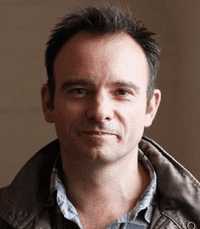 TR: You've done a lot of stage work before this. What do you think most prepared you to tell this particular story and on film?
MATTHEW WARCHUS: One great bit of preparation: I grew up in a village in the middle of nowhere in the North of England surrounded by coal mines and massively isolated. We had moved into that village so we were outsiders, wanting to to assimilate and be accepted. That gave me an understanding of how those communities work and the positives and minuses.
You were a teenager when the events in the film happened, right?
MW: I remember local picket lines during the strike. But at that age I don't think I really understood. When I went to university I learned much more about the politics and the social upheaval. And then, you know, being interested in theater and music wasn't common where I was growing up. There wasn't a theater or drama group or anything nearby so that was considered as odd as dancing at a disco where only the women dance! [Laughs]
MORE ON 'PRIDE', COMMUNITY AND MUSICALS, AFTER THE JUMP…

MW: And working in theater for 25 years I obviously have learnt how to direct actors. I understand what actors need to do their best work; How little they need and how much they need in different circumstances. And also how to coordinate large groups of people in the musicals I've done. The performances need to be coordinately carefully to try to let everybody have their moment, to get the story of the group.
"The story of the group" — love that. Usually movies, even ensembles, are essentially one person's story. How hard was that community feeling to achieve?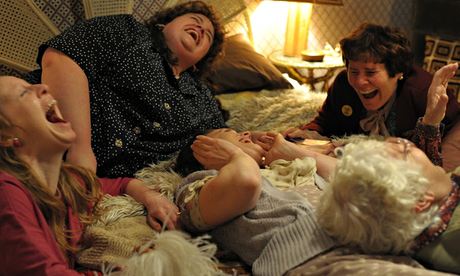 MW: To convey that balance that was in the script took a lot of mathematics actually. I had a notebook writing down who should have the shot and who shouldn't in different scenes 'Don't leave that scene without giving that person at least a single but no need to worry about those two!' And understanding of the humanity of it – the injustice and bullying. These are things you see in Matilda the Musical well. The underdog standing up for what's right. At some point in my childhood that got laid down pretty deep in me.
It's funny that you mentioned the musical. I could not shake the feeling after my screening that someone is going to try to make Pride a stage musical in ten years!
MW: Well, the first time I read the script I called the producers to respond and I said 'I loved it. It made me laugh. It made me cry. I think it's important and the writing is fresh. I'd like to do it. However, the condition is can I put in my contract to share in the rights for the stage adaptation?' I saw what you're saying!
That someone could be you. Great news.
MW: The film has a big heart and a golden uplifting quality despite its sadness and suffering in places. It's full of songs and dances as well. But It's more to do with that uplifting quality that makes people think of musicals. However there is a balancing act in the movie between the golden side of things and the toughness and plainness of the difficult events that are being recounted.
Musicals — you run the risk of increasing the sentiment. What I would want to be very sure of in developing a possible stage musical of it is that it still retains that balance, the toughness and authenticity and doesn't become a sparkly over sentimental fairy tale.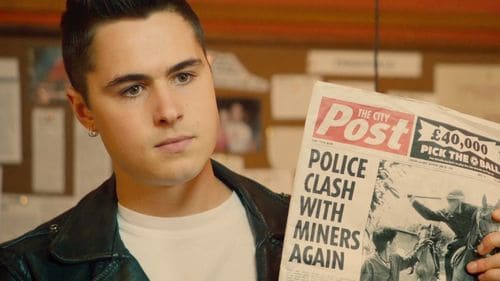 I love the screenplay by Stephen Beresford. How complete was that when you signed on?
MW: It was really good. Stephen and I worked together after that, modifying it a small amount, ten/fifteen percent. We slightly developed Mark's story a little bit, added two or three scenes, cut four or five, and tightened up the middle. Very happy collaborative stuff but if we hadn't done anything the essential successes of the script would still have been there.
People don't really realize — they're probably not interested to be honest — that there's a tangible difference between a script that's been written by one person and a script that's been over-noted and kind of written by committee. In a screenplay written by one person you get quirks and things that you're not supposed to do. I love all that. I love that the script doesn't behave in a totally conventional way all the time and that he just launched into the story without an individual hero. There was a lot of pressure for us to change the script and make it more about a single person or two people. But that was one change we definitely didn't make.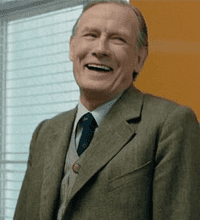 Right call! Or you'd lose that lovely sense of community. And I have to tell you It was a nice riposte to the fact that Margaret Thatcher was celebrated at the cinema a couple of years ago.
MW: I completely agree. There's something so lovely about seeing Bill Nighy say "Margaret F–king Thatcher". That's not why we did it but it was a neat bonus that we were balancing that hagiography.
You've been promoting Pride since the summer. What has been your favorite reaction?
MW: The very first reaction came just two days after i finished editing at the Cannes film festival. That was about 900 people from across Europe, standing and cheering. That was the first glimpse that we had of how this might affect people who had no obvious immediate connection with the world of the story. Our screenings are getting further and further away from that tiny village in Wales. We had a screening in Los Angeles which is geographically the furthest away we've been so far. You think 'Will the relevance dissipate the further away you get from the geographical heart of the story?' But no! It got the same reaction, a tumultuous reaction, really. Same as it got when it screened in South Wales near the village and the same reaction when it was screened for the real LGSM members and their friends and family in SoHo.
To be honest with you there are some things that go beyond careerism. It was a privilege to direct this. We're dwarfed by the real life events and how inspiring they are. I'm happy to be a part of anything which brings the story to a wider audience."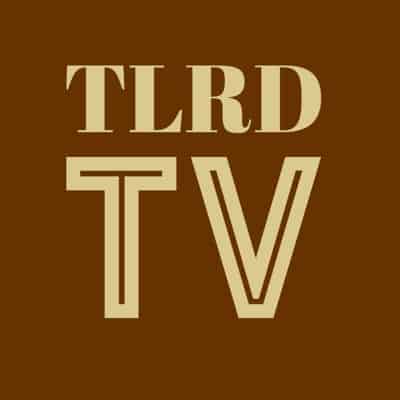 Nathaniel Rogers would live in the movie theater but for the poor internet reception. He blogs daily at the Film Experience. Follow him on Twitter @nathanielr.