Though many prominent members of the GOP have come forward in support of marriage equality over the past few months, others are holding fast to their "traditional" point-of-view. Representative Tim Wesco of Indiana's 21st district is one such individual.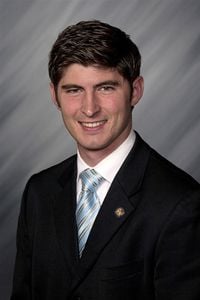 A proponent of that state's proposed constitutional ban on same-sex marriage, Wesco said, "I personally can never change my view on that. I'm solid that marriage is between a man and a woman." Unfortunately for Wesco, his perspective is becoming the exception to the marriage equality rule; furthermore, his belief that polygamy could be the next deteriorating shot fired at "traditional marriage" is very nearly a tired cliché.
The Elkhart Truth reports:
"Unfortunately, the courts have grown increasingly powerful in the past decade," said Wesco, facing Democrat Jodi Buoscio for the District 21 seat in elections in November.
He said the Supreme Court, by paving the way for same-sex marriage, isn't protecting the right to marriage. Rather, it's aiding in redefining marriage.
"I think the time is coming down the road when it is going to go beyond only same-sex marriage," Wesco said, hinting at the possibility of polygamy gaining legal protection. If marriage could be expanded to include same-sex couples, then "why can't three or four people get married?"
Wesco's fears hold no water for the time being, and as we reported several days ago, happy reports of successful marriage license acquisition are coming out of Indiana and several other states.