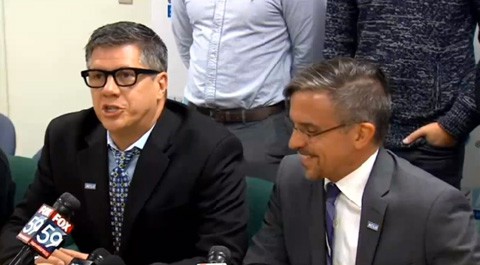 Marion County, Indiana Clerk Beth White began issuing marriage licenses to gay couples immediately this morning following the Supreme Court's denial of the challenge to the appeal of the Seventh Circuit Court's decision declaring Indiana's ban on same-sex marriages unconstitutional, WTHR reports:
"I am delighted to once again welcome all loving Hoosier couples to the Clerk's Office to obtain a marriage license," said Clerk Beth White. "Limbo for these couples is over and they can expect nothing but dignity and respect from our marriage license staff when they arrive."
"We will not offer civil ceremonies as we did in June when same-sex marriage was briefly allowed in Indiana since the same state of urgency does not exist," White said. "When couples decide when their wedding day will be, they have 60 days to use their license."
Prospective applicants are asked to research what the process entails before coming to the Clerk's Office for a license by visiting indy.gov/clerk.
More info here.
Plaintiffs in the Indiana case spoke out shortly after this morning's announcement.
Watch, AFTER THE JUMP…