On the heels of last week's Ninth Circuit decision striking down Nevada and Idaho's gay marriage bans, Lambda Legal has filed for summary judgment on behalf of Nelda Majors, Karen Bailey and other couples in a case challenging Arizona's ban on same-sex marriage. 
Said Lambda Legal Senior Counsel Jennifer C. Pizer: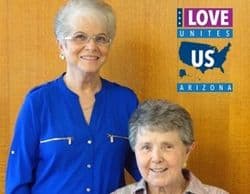 Nelda and Karen [pictured] have been waiting since the Eisenhower Administration; the time is now. None of these loving and committed couples should have to wait even one day longer for the equal treatment that the Constitution promises. The indelible writing is on the wall, both with the 9th Circuit ruling and last week's decision by the U.S. Supreme Court not to review circuit court rulings out of the 4th, 7th and 10th Circuits striking down similar bans in five states nationwide. Equality plus liberty add up to marriage for same-sex couples here in Arizona, too.
The federal judge in question, U.S. District Judge John Sedwick, last month ordered Arizona to recognize the marriage of a gay man who lost his spouse to cancer last month and was subsequently denied death benefits because of the state's same-sex marriage ban.
Read the filing below: