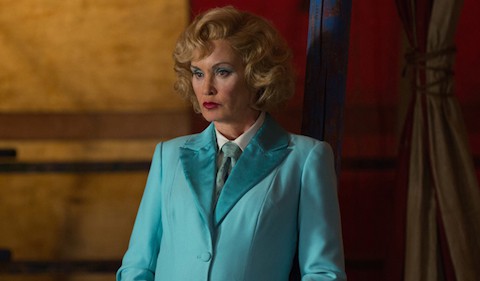 "Maybe that's what this place needs: a strong male presence." That's a line spoken by Jessica Lange's character on last night's episode of American Horror Story: Freak Show, but it could just as well be said of the series as a whole.
Last season, Coven, was so female-centric that the two male leads (Evan Peters and Denis O'Hare) both actually played characters mostly unable to speak. The most recent episode, by contrast, put the spotlight squarely on the male cast, including Peters, Finn Wittrock and Michael Chiklis. Peters is a proven pro at anchoring Ryan Murphy's AHS lunacy, but the real surprise was Wittrock's bratty sociopath, Dandy Mott.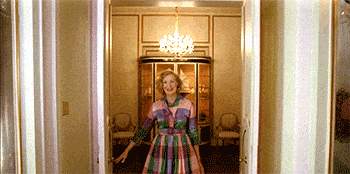 What sort of trouble did Dandy and the rest of the characters find themselves in? Pour yourself a crystal baby bottle full of cognac and relive the highlights with our recap, AFTER THE JUMP …
All is not well at Fraulein Elsa's Cabinet of Curiosities. Young Jimmy Darling (Peters) is feeling not so hot about murdering that cop last week. Partly because he's worried the cop had a family (and he knows what it's like to grow up without a dad), but he's also a little upset over the whole ordeal now that the other cops are sniffing around the grounds. I mean, are these the worst cops ever? Call me crazy, but if I was investigating a string of particularly grisly murders, I'd probably start with the dirty clown wearing human skin masks and meandering around town with a bloody sack? Maybe that's just the sort of thing people are used to seeing in Florida. I don't know.
Anyway, an agitated darling Jimmy Darling decides to dig up the dead cop parts and burn them up real good, just to be safe. He'll hold onto the badge, though. More on that in a bit.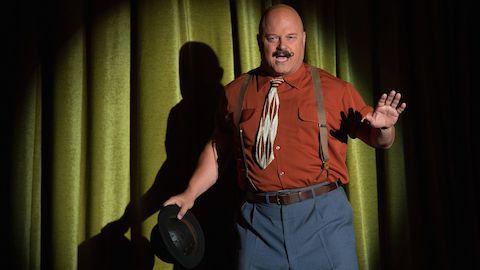 The campground is abuzz with the arrival of Dell Toledo (Chiklis) and Desiree Dupree (Angela Bassett). He's a strongman with a temper and she's his three-breasted hermaphrodite wife. They were featured in a freak show in Chicago until Dell walked in on Desiree having sex with a gay man, whom Del murdered in a jealous rage. It's definitely not the most delicate telling of an intersex story, but, you know, good taste isn't really this show's forte.
Of course, Dell isn't really a stranger to all these folks. He's darling Jimmy Darling's dear old dad, even if Jimmy doesn't know it yet. That means he's the old flame of Ethel (Kathy Bates), whose accent and face-merkin continue to astound. She warns him to not let Jimmy know he's his daddy.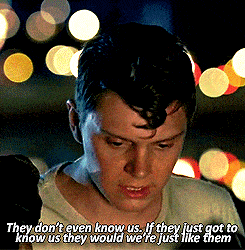 Jimmy's still pretty preoccupied anyway. Now that the cop he murdered has been incinerated, he's transfixed on having his fellow freaks recognized as equals. If only they got to know us! Surely they would swipe right, or whatever! So, he rounds up the gang and heads to the local greasy spoon where surely the patrons and staff will embrace them with open arms! And meatloaf!
But, alas, the magical moment (and meatloaf) are not meant to be. The waitstaff and other diners are profoundly uncomfortable by the sight of them. Dell happens to be hanging flyers for the matinee show (an idea of his to combat the town's recently instituted curfew), and he notices them inside. He gets real mad that they're eating off-campus and so he casually pummels Jimmy in Jimmy's pretty little face.
Back at Fraulein's, Elsa (Lange) is trying to figure out what the Tattler sisters (Sarah Paulson)'s talent is. Ironically, fame-obsessed Bette lacks any sort of singing ability, but her ornery sister, Dot, has a sultry, smoky voice that drives the crowd wild. Her take on Fiona Apple's "Criminal" (complete with her conjoined sister providing harmony) was awesome enough to drive the crowd into a sort of 1950s proto-mosh pit. I know these anachronistic musical moments are divisive, but I'm a fan.
Elsa doesn't think it's nearly as awesome, since a rising star will only mean a smaller slice of the spotlight for her. She sneaks into the twins' room at night and tries to convince Bette that she's the real star, and Dot is taking away her chance. Then she leaves a little blade for Bette. We'll see what she chooses to do with that.
And that badge from earlier? Well, the cops come back to the grounds saying they've received an anonymous tip about the murdered cop. They search Dell's trailer first, but don't find anything. Dell found the badge someone planted in his trailer. (Did Jimmy do it to get revenge for the beatdown? Was it Elsa, getting retribution for Dell's putting her at the bottom of his matinee flyer?) He stuck it in the trailer of Meep The Geek before the cops got there, framing the strange little man (man? I think man). The cops take the geek away, but before Jimmy can drunkenly turn himself in to free Meep, the geek is murdered by his fellow inmates, and his body is dumped back at Fraulein's. R.I.P., Meep. We barely knew you, but what we did know was sort of gross. Still, you probably didn't deserve to be beaten to death while in prison for a crime you didn't commit. Probably.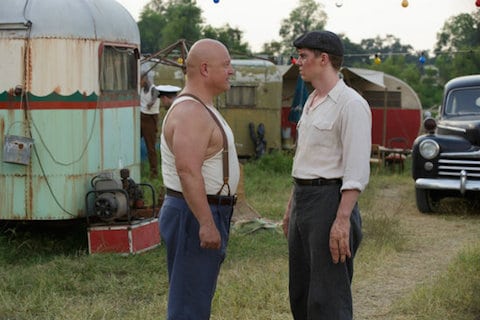 Meanwhile, at the Mott's, Dandy Mott (Wittrock) is bored. SO BORED. He's just kicking around the house, drinking cognac out of a crystal baby bottle, being so very bored. It's boring hanging out with Mama Mott (Frances Conroy). He wants to be an ACTOR!
Short of a master class with Carl Weathers, Dandy goes to Fraulein Elsa's to ask Jimmy for a spot on the show. Of course, without any kind of obvious freaky quality, he's not really of much use. Devastated, Dandy has a little snit in the car and heads home.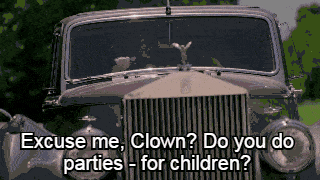 Mama Mott has been so worried. No, not because the maid (played with a very full face of makeup by Patti LaBelle) told her she found a pile of "parts" behind the tool shed that could very well be (and most likely is) the neighbors' missing cat. Mama Mott is worried about Dandy's happiness. So she hires a clown she finds strolling down the street. Not just any clown, mind you, Twisty (John Carroll Lynch). Because there's nothing alarming about the filthy clown with the human skin masks. Nope. Nothing at all.
When Dandy returns home, Twisty is there to play. First they try to play with puppets, but Dandy is quickly bored and wants to know just what kind of clown Twisty is. While he busies the clown in the toy box, Dandy peers in his bag of tricks. And by tricks, I mean the severed head of one of Twisty's recent victims. Thinking he's been caught, Twisty gives Dandy a good boop on the head with a juggling pin and bolts for the door. Dandy, though, is intrigued and follows.
Twisty heads back to his van in the woods, where his captives have freed a piece of wood and some rusty nails from their cell. When he arrives, he joins them in the cell, and the teenage girl gives him a good whack. She and the little boy take off running. Twisty catches the boy, and the girl runs smack into Dandy. She tries to explain that the clown is a killer, but that only seems to excite Dandy more. He picks her up and returns her to the trailer, telling Twisty "You're going to have to do a better job of confinement if we're going to have any fun." Creepy!
What did you think of tonight's episode?