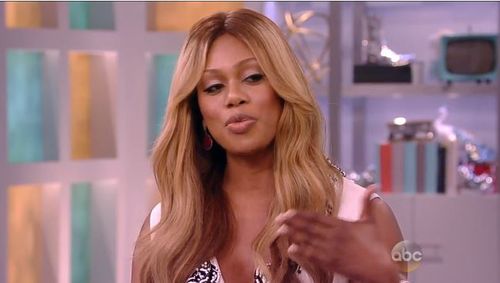 Laverne Cox stopped by "The View" on Tuesday, gabbing with Rosie O'Donnell and Nicole Wallace. Tragically, Whoopi Goldberg wasn't there for this segment, so we didn't get another taste of their rapport.
For the most part, Cox spoke about her new project Logo documentary "The T Word." The doc follows the lives of young transgender people, who Cox points out face (on the whole) less adversity than you might have feared. Two of the show's castmembers were in attendance at "The View."
Cox also joked, defining the "T" in "T word," giving "trans" as a definition, but also pointing out the usage found among queens on "RuPaul's Drag Race." "T means truth," Cox said, with a laugh. "Trans folks started that by the way!" 
Cox talked her early days as an actress — working in independent film. She also talked her breakthrough — getting cast in "Orange is the New Black." Cox describes the serendipity of finding the show; in the early stages of casting Jenji Kohan had (jokingly) said: "We need to hire someone on this show, and ideally, they will have a twin brother." Along came Laverne and the rest is history.
Check out the interview, AFTER THE JUMP…