Six of seven New Jersey high school students are being held in police custody this week after being charged for hazing-related sexual assault crimes. Acting as members of the Sayreville War Memorial High School football team, the accused teenagers are said to have restrained, abused, and inappropriately touched four fellow teammates. Families of the arrested teenagers are awaiting preliminary decisions that will determine whether students, whose ages range from 15-17, will be charged prosecuted as minors or adults.
"Everything revolves around getting the kids ready to play Bomber football," Cary Melenez, a local resident explained of her city.
The allegations have shaken parents and school administrators concerned for the well being of their children and students. Though not known for churning out star football players, Sayreville's culture revolves heavily around football participation. The implications of a scandal like this have prompted a number of vocal protestations. In light of the developing case, Sayreville school superintendent made the executive decision to cancel the remainder of the high school's fall football season. 
"In the ensuing days, weeks, and months," Sayreville school superintendent Richard Labbe said in a statement, "we will come together as a school district and greater community to harness the strength required to support the young men who may have been victimized and then to begin the healing process for our beloved community."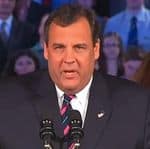 Chris Christie echoed the superintendents intentions of exhaustively delving into the specifics of the case in hopes of exposing the truth of the events and sending a clear message.
"The facts as reported currently are extraordinarily disturbing, and as the father of a number of teenage athletes, the idea that that kind of conduct could be permitted — if it's true … in a high school athletics program, or anywhere else in our state for that matter, is absolutely unacceptable."
Watch footage of Sayreville school superintendent Richard Labbe addressing the hazing scandal AFTER THE JUMP…