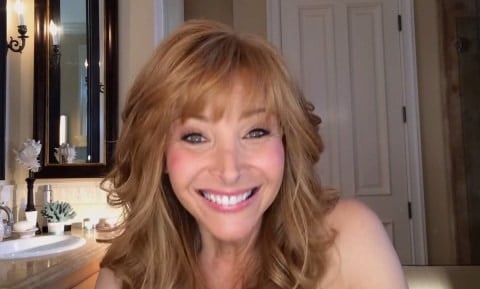 Lisa Kudrow aka Phoebe Buffay aka Valerie Cherish recently spoke with PrideSource about the renewed second season of her cult classic comedy The Comeback. It seems that Ms. Kudrow holds the belief that homosexuals may be the most mentally and physically exceptional humans on earth. Maybe that's why they are so drawn to Valerie's exceptionally uncomfortable and humorous shenanigans…
Frontiers LA reports:
"The people I work with are gay. I don't know who I'm going to offend by leaving them out, but I need to say that I think gay men are superior beings in my mind. I do believe that.
It's all so tricky. I studied biology and the brains are anatomically different. They just are. There's a stronger connection with the corpus callosum (in gay men). The two sides of the brain communicate better than a straight man's, and I think that has to be really important. They're not women – they're still men – and women also have thicker corpus callosums, so I think it's the combination of those qualities that makes them like a superhuman to me."
Kudrow offered an explanation for The Comeback's gay fanbase, too, citing the constant difficulties they face as a hot button minority in today's society.
"I was watching Will & Grace once and there was this hilarious episode where Karen's at a theater and she throws her flask and it hits someone in the head, and there's this joke that gay men wouldn't care 'cause, 'Eh, all in a day.' (Laughs) Getting, like, smacked with something is 'all in a day.' So I wonder if that's what it is – because Valerie gets, you know, humiliated – or humiliates herself – all the time. And it's like, 'Yeah, well, that's the world.'" 
Leave it to Kudrow (or is it Cherish?) to make light of the embarassing and upsetting moments in life. But hey, maybe getting through all of that is what makes the LGBTQ community "superhuman," huh? Kudrow (in character as Cherish) may get a chance to bring that insight to RuPaul's Drag Race, too; she's been offered a guest judge position for next season:
"You know, I've been asked to, but I don't know how Valerie works on a talk show or as a judge. I don't know. I'm thinking about it. I'm trying to figure out how it works. I don't wanna say no!
(Laughs) But she could say all kinds of – I don't know what we're allowed to [say on Drag Race]. I mean, she's indelicate and gets things wrong and, you know, I don't know how offensive she's gonna be."
Check out the full interview here. 
Get ready for The Comeback season two, beginning November 9th.