In major news in the fight against HIV, a second European study has concluded the "randomized" phase of its examination of the efficacy of pre-exposure prophylaxis (PrEP) due to the drug's high effectiveness at preventing HIV infection. All participants in this latest study–IPERGAY–including those who were previously receiving a placebo medication have now been given PrEP. What is perhaps most stunning about the new findings is that evidence seems to suggest that PrEP is effective not only when taken daily but when taken "on-demand", in other words, when sex is anticipated. AIDS Map reports: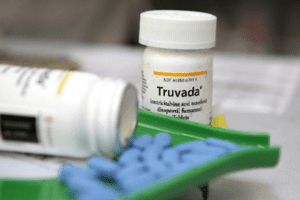 The investigators of the IPERGAY trial, which has six sites in France and one in Canada, announced today a "Significant breakthrough in the fight against HIV and AIDS" because IPERGAY had successfully demonstrated the effectiveness of its PrEP regimen.
IPERGAY's early closure is significant not only because it adds confirmation that PrEP can be highly effective, but because it was testing an innovative, intermittent ("on-demand") PrEP regimen. In this study, participants did not take PrEP daily, but only when they anticipated having sex. The regimen involved taking two pills of Truvada (tenofovir + emtricitabine) in the 24-hour period before anticipated sex and then, if sex happened, two separate one-pill doses in the two days following sex. This extends the versatility of PrEP and provides an alternative regimen to daily dosing.
The results from the IPERGAY trial mirrors those of a recent British trial, PROUD, which concluded its first phase early as well. The reports from both trials are still preliminary, however:
As with PROUD, no actual effectiveness figure or other quantitative data [from IPERGAY] were released, pending full analysis of the figures. The full results should be available early in 2015.
The trial will continue in non-randomised form for at least a year, as will PROUD, because of the need to demonstrate that "on demand" PrEP can have long-term benefit and to gather data on safety.
Principal investigator Professor Jean-Michel Molina said, "The biomedical concept of on-demand PrEP at the time of sexual exposure, in a broader prevention framework, is validated. We owe this to all trial volunteers without whom we could never have achieved these results". He adds that "condoms remain the cornerstone of HIV prevention. Combining all prevention tools that have proved to be effective will certainly allow us to better control the HIV epidemic."
Professor Jean-François Delfraissy, Director of ANRS, commented, "This is a major breakthrough in the fight against HIV. The results of the ANRS IPERGAY trial should change national and international recommendations for HIV prevention".