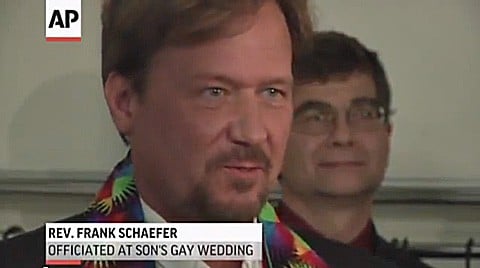 The Judicial Council of the United Methodist Church has upheld an appeals panel ruling reinstating pastor Frank Schaefer, who was defrocked last year for officiating at his son's wedding to another man back in 2007. 
Said Schaefer, via GLAAD:
Today, we are witnessing a small, but significant step toward taking another look at the exclusionary policies of the United Methodist Church. With its decision to validate my reinstatement, the Judicial Council has acted justly and wisely. Their decision signals hope to our LGBTQ community that has not always seen the rule of love and grace winning over the letter of the archaic law the church still subscribes to. Today's decision also signals a willingness to continue dialogue and to seek solutions that will hopefully lead to a change in these archaic and harmful policies. The UM Church needs to find a way toward reconciliation, full inclusion of our LGBTQ community and an open altar for all God's beloved children.
I will continue the fight alongside thousands of others in the reconciling movement for full inclusion and an open altar for all. I know the day is coming when this dream will be reality and I don't think it is that far in the future.
The Methodist Church's Book of Discipline continues to call homosexuality "incompatible with Christian teachings" and bars clergy from performing same-sex unions.