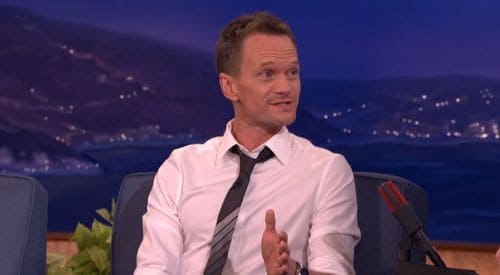 Neil Patrick Harris stopped by Conan last night to promote Gone Girl and his new Choose Your Own Autobiography.
On filming the movie's "extensive" sex scene:
Honestly I was more concerned with Rosamund Pike because we were having sex in the scene so I just wanted to make sure she, in her own state of disrobedness felt comfortable and didn't feel weird…and make sure no one really saw my wang.
Harris also shared a childhood story featured in his book about his older brother arranging to have him in a three-way kiss with two girls. 
"In hindsight wierdly, using angles, both of their tongues were in my mouth but my tongue was between their cheeks…so I think it was super-fun for me and kind of disgusting for the two of them."
Watch, AFTER THE JUMP…