Same-sex marriage in Alaska, which began Monday after a federal judge overturned the state's gay marriage ban, has now been placed on temporary hold by the Ninth Circuit in order to allow the state time to appeal the ruling to the Supreme Court. 
The Washington Blade reports: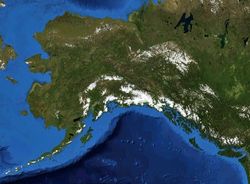 According to the two-page order, same-sex weddings are stayed until Friday at 12 pm Pacific Time (3 pm Eastern Time) to give state officials the opportunity to obtain an additional stay from the Supreme Court. But if the Supreme Court declines to halt the weddings, the Ninth Circuit stay will dissolve by that deadline. […]
Adam Romero, federal legal director for the Williams Institute at the University of California, Los Angeles, said the stay has the effect of creating "tiny window" for the Supreme Court to consider a stay before same-sex marriages continue in Alaska.
"Given the Supreme Court's recent decisions on similar requests, I expect the Court to deny a stay to Alaska, which will result in same-sex marriage coming to Alaska while the states exhausts its appeals," Romero said. "On the merits, I see no scenario, in the present circumstances, in which the Ninth Circuit does not strike down Alaska's ban, or Arizona's or Montana's bans for that matter."
On Friday, the Supreme Court lifted a similar stay in the Ninth Circuit ruling overturning Idaho's gay marriage ban. 
Read the order granting temporary stay below via Equality Case Files.