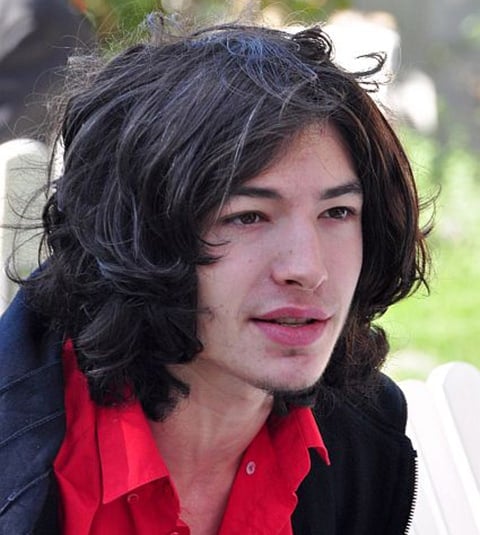 Ezra Miller (The Perks of Being A Wallflower, We Need To Talk About Kevin) will play comics character The Flash in Warner Brothers/DC Comics' superhero franchise that will include a solo feature coming in 2018. BuzzFeed reports:
Miller will star in a stand-alone movie of The Flash in 2018, after presumably appearing in Justice League Part One in 2017 from director by Zack Snyder, who is also helming 2016's Batman v Superman: Dawn of Justice. (This is not to be confused with The CW's television series The Flash, which stars Grant Gustin and exists in a separate fictional universe.)
Warner Bros. also announced a full slate of feature films based on DC Comics, including a 2020 stand-alone film for Cyborg, starring Broadway actor Ray Fisher. In the current ecosystem of officially announced superhero movies, it would be the first time a black actor has headlined his own superhero movie based on a comic book since 2004's Blade: Trinity. (To be fair, Michael B. Jordan is part of the ensemble in 20th Century Fox's reboot of The Fantastic Four, but Fisher would be his film's ostensible solo star.)
Miller came out as queer back in 2012 to Out Magazine, saying, 
"I'm queer. I have a lot of really wonderful friends who are of very different sexes and genders. I am very much in love with no one in particular. I've been trying to figure out relationships, you know? I don't know if it's responsible for kids of my age to be so aggressively pursuing monogamous binds, because I don't think we're ready for them. The romanticism within our culture dictates that that's what you're supposed to be looking for. Then [when] we find what we think is love — even if it is love — we do not yet have the tools. I do feel that it's possible to be at this age unintentionally hurtful, just by being irresponsible — which is fine. I'm super down with being irresponsible. I'm just trying to make sure my lack of responsibility no longer hurts people. That's where I'm at in the boyfriend/girlfriend/zefriend type of question."
The CW's iteration of The Flash is currently in its first season and stars Grant Gustin as the eponymous hero (formerly the promiscuous gay warbler on Glee).