Joining the chorus of anti-gay, right-wing voices enraged at the Republican Party's largely non-existent response to Monday's Supreme Court gay marriage decision, NOM President Brian Brown is now backing up Mike Huckabee's threat to abandon the GOP.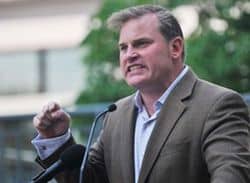 "We are grateful for those leaders who have spoken out to condemn the Supreme Court for their unprincipled and outrageous decision to allow the redefinition of marriage to occur in these states. We are prepared to work tirelessly to support them and others who lead in the fight to preserve marriage. But Governor Huckabee is right. If more Republican leaders do not speak up and join the fight, then millions of conservatives will abandon them and join with officials who will fight. Marriage is on the line in our country, and it's time for people to get off the bench and into the battle."
Brown went on to criticize House Speaker John Boehner and the National Republican Campaign Committee for throwing their support behind openly GOP congressional candidates Carl DeMaio and Richard Tisei. 
[via Right Wing Watch]