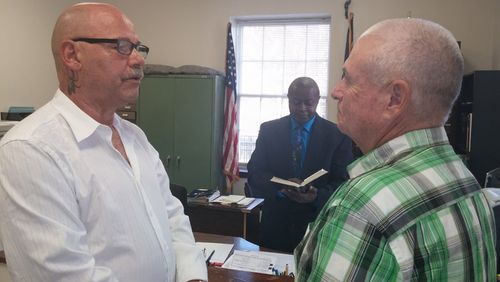 With same-sex marriage legal following a federal judge's ruling last week overturning North Carolina's ban on gay marriage, magistrates in the state have been ordered to perform marriages for same-sex couples or face suspension or dismissal from their state jobs.
The Associated Press reports:
A memo to state magistrates Wednesday said they would be violating their oaths of office if they refuse to marry gay or lesbian couples. The directive came after a magistrate in Pasquotank County on Monday refused to marry two men, citing religious objections.
That magistrate, Gary Littleton, will not be reappointed when his term expires in December due to an unrelated charge of assault a year ago. 
In other North Carolina news, a federal judge on Tuesday granted Republican state legislators the ability to intervene in lawsuits challenging the state's gay marriage ban. 
WRAL reports:
That leaves the door open for a potential appeal of the ruling. However, constitutional and family law experts agree an appeal is unlikely to succeed. The court to which any North Carolina appeal would go would be the 4th U.S. Circuit Court of Appeals, the same court that ruled Virginia's same-sex marriage ban unconstitutional.