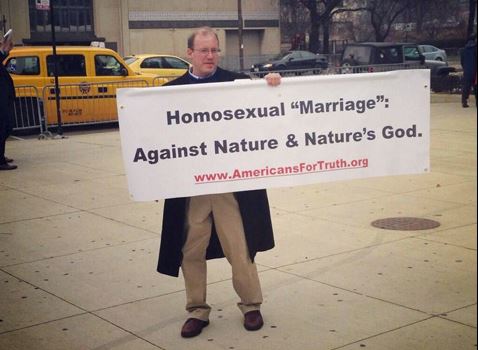 LaBarbera outside the Illinois marriage equality bill ceremony last year.
In a radio interview last week, Americans for Truth About Homosexuality wingnut Peter LaBarbera railed against President Obama, who will supposedly have to "answer to God" for his role promoting the "terrible sin" of LGBT equality.
Said LaBarbera:
I don't think Barack Obama has been more loyal to any special interest group than the homosexual activist movement. What he's done for that movement, he's by far the most pro-homosexual president in our history. He's done great damage to the morality of this country by helping persuade people that this sin is okay…
LaBarbera also lit into the Republican Party for not speaking out louder against gay rights and for not doing a better job marketing its anti-gay platform to African American and Latino voters. 
Listen, AFTER THE JUMP…
[via Right Wing Watch]