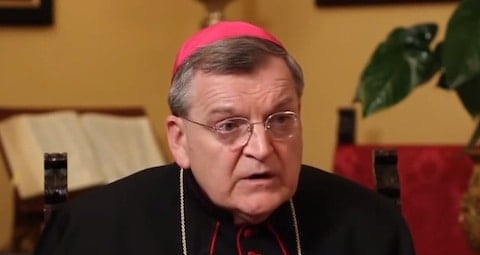 Raymond Burke, the conservative American cardinal who in the past has said discrimination against LGBT people is "perfectly just and good," has been removed from his position as head of the Vatican's 'Supreme Court' by Pope Francis, Buzzfeed reports:
"I very much have enjoyed and have been happy to give this service, so it is a disappointment to leave it," Burke said, explaining that he hadn't yet received a formal notice of transfer. "On the other hand, in the church as priests, we always have to be ready to accept whatever assignment we're given. And so I trust by accepting this assignment I trust that God will bless me, and that's what's in the end most important."
Burke, who has now been placed in the largely ceremonial role as head of the Sovereign Military Order of Malta, also spoke out against the on-going "family synod" of Catholic bishops, saying the meeting seems to have been designed to "weaken the church's teaching and practice."
"The pope, more than anyone else as the pastor of the universal church, is bound to serve the truth," Burke said. "The pope is not free to change the church's teachings with regard to the immorality of homosexual acts or the insolubility of marriage or any other doctrine of the faith."
Earlier today, we reported the Vatican had caved to conservative backlash to reports the church was planning on becoming "welcoming to homosexual persons" – revising the English-translation of the report to now say "providing for homosexual persons."
Head over to Buzzfeed HERE for the full account of the behind-the-scenes scuffle between conservatives and reformers within the Catholic hierarchy.