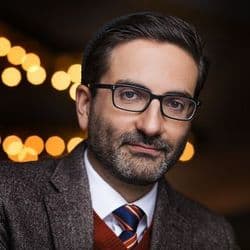 Gil Steinlauf, the prominent rabbi at of one of Washington, D.C.'s most distinguished synagogues, has come out as gay in an e-mail widely circulated throughout his congregation and republished in the Washington Post.
Steinlauf came to the Adas Israel Congregation in 2008 and is widely recognized as having been influential in the organization's efforts to court members of both the progressive and traditional Jewish communities. In 2012 Steinlauf officiated Adas Israel's first same sex marriage, an experience that he recounted in an article for The Jewish Journal entitled "The Queerness of Love: A Jewish Case for Same-Sex Marriage."
"Today, I am unfazed by the apparent biblical injunction against homosexuality as an 'abomination,'"  he wrote. "It is, in fact, the Jews' queerness in the world that captures our particular Divine message to all humanity. Love is queer, and in recognizing this, we find its holiness, its Godliness."
In the e-mail Steinlauf described his lifelong struggle with accepting his homosexuality and spoke of the strength he found in his marriage to Batya Steinlauf, his wife and a fellow rabbi herself. The pair met as students at Jewish Theological Seminary in New York City and together they had three daughters. While their intentions to divorce are firm, they've decided to continue to live together for the time being.
"What we've had for 20 years is very real, and the last thing I'd want is for us to live a lie," he said of his family.
Reactions to Steinlauf's coming out have been supportive. Arnie Podgorsky, president of the synagogue, reached out to the congregation encouraging them to understand the couple's decision.
"I have great respect for their ability to face changing circumstances in their lives with honesty and integrity," he said in a letter. "We can all learn from their example."