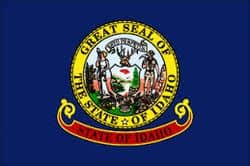 The Supreme Court has lifted Idaho's stay on a 9th Circuit mandate striking down the state's gay marriage ban, USA Today reports:
The order allows a federal appeals court decision issued Tuesday to take effect in Idaho, just as it did in Nevada. Three other states without gay marriage — Arizona, Montana and Alaska — are impacted by the ruling, but state officials there have not yet capitulated.
Gay couples should be able to get married shortly. Stay tuned….
#Idaho update: MT @GlenBeebyKBOI Large crowd gathering inside clerks office to see if licenses will be issued pic.twitter.com/E0VjG1lOQP

— freedomtomarry (@freedomtomarry) October 10, 2014
Update: Latah County has begun issuing marriage licenses to gay couples!
#LatahCounty is the only #Idaho county issuing licenses to same-sex couples now. All others are still waiting for the #9thCircuit's mandate

— freedomtomarry (@freedomtomarry) October 10, 2014
Update II: Idaho Gov. Butch Otter has just released the following statement:
"The Supreme Court's order lifting Justice Kennedy's stay effectively allows same-sex marriage in Idaho as soon as the 9th Circuit directs compliance with its decision. I disagree with the court's conclusion, which negates the 2006 vote of the people of Idaho, is contrary to the values of most Idahoans, and undermines fundamental states' rights.  But we are a nation of laws. Idaho now should proceed with civility and in an orderly manner to comply with any forthcoming order from the 9th Circuit."