It appears there have been some aftershocks to yesterday's pastoral earthquake. Despite a groundbreaking report issued yesterday from the Vatican which declared unheard-of support for gay persons, saying gay people have unique "gifts and qualities" to offer their parishes, the Catholic Church is today backtracking on the report as a result of the ire expressed by more conservative members of the clergy. CNN reports: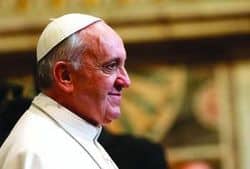 In response to such reactions, the Vatican backtracked a bit Tuesday. In a statement, it said the report on gays and lesbians was a "working document," not the final word from Rome.
The Vatican also said that it wanted to welcome gays and lesbians in the church, but not create "the impression of a positive evaluation" of same-sex relationships, or, for that matter, of unmarried couples who live together.
But gay rights groups say that's precisely the impression the Vatican gave Monday when it said:
"Homosexuals have gifts and qualities to offer to the Christian community. Are we capable of welcoming these people, guaranteeing to them a fraternal space in our communities? Often they wish to encounter a church that offers them a welcoming home. Are our communities capable of providing that, accepting and valuing their sexual orientation, without compromising Catholic doctrine on the family and matrimony?"
Such statements seem to be in line with the more merciful approach the church has taken toward gays and lesbians under Pope Francis. In 2013, Francis famously said, "Who am I to judge" gay people?
On Monday morning, just before the Vatican released its positive report on gays, Francis preached that laws that do not lead people to Jesus are "dead," and that Christ did "strange things" such as hanging out with sinners and tax collectors.
Monday's report also said of same-sex relationships, "it has to be noted that there are cases in which mutual aid to the point of sacrifice constitutes a precious support in the life of the partners" and said bishops must grasp the "positive reality of civil weddings" where heterosexual co-habitation (i.e. "living in sin") is concerned. 
Despite the backtrack, some gay rights advocates still herald Monday's report and believe today's retread isn't a devastating a setback: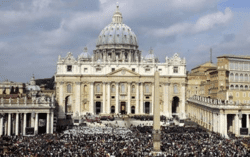 "I actually don't think this is as much of a backtrack as we usually see!" said Marianne Duddy-Burke, head of the gay rights group Dignity USA.
"I think that response to this report was swift and intense, and I'm sure many bishops want to be sure people aren't reading more into it than is there," she continued. "However, it is undeniable that there has never been any Vatican document that made positive, respectful statements about same-sex relationships, so that is an undeniable breakthrough."
Francis DeBernardo, executive director of New Ways Ministry, echoed that sentiment.
"Regardless of the fact that this is a working document, it is still significant in that it reveals a strong current of affirmative attitudes at high levels in the church towards lesbians and gay people," he said.