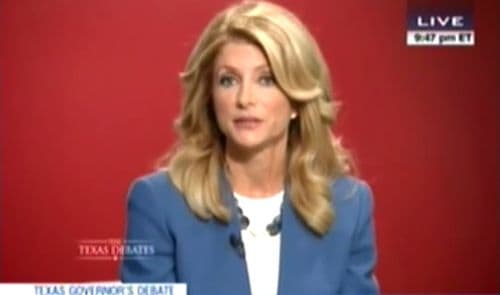 Fierce Texas state senator Wendy Davis met with attorney general Greg Abbott for a final gubernatorial debate last night. The nearly hour-long conversation about hot topics, ranging from abortion (Davis is pro-choice, Abbott pro-life even in the case of rape and incest) to confirmed Ebola cases in Dallas, eventually wound its way to same-sex marriage. 
A viewer named John from Forth Worth, TX posed the question: "If a 10-year-old girl asked you whether her two dads should be allowed to get married, what would you tell her?" The moderator asked whether the candidates would support legislation to overturn the ban currently placed on same-sex marriage in the state. The two candidates played their respective party roles, though Davis's direct approach and commitment to the issue clearly overshadowed Abbott's jovial dedication to preserving "traditional marriage." A 10-year-old might be confused by Davis's political jargon, but at least she wouldn't feel condescended to, Mr. Abbott.
MSNBC reports:
Davis argued in favor of marriage equality and noted Abbott has renewed the fight against same-sex marriage. She also said she'd welcome a bill that would give voters an opportunity to appeal the state's constitutional ban on gay marriage. Abbott reiterated, "I believe in traditional marriage," noting he's been married to his wife for more than three decades and that more than 75% of Texans approved a constitutional amendment to ban gay marriages in the state.
After Abbott opted to discuss his own happy marriage and an outdated public vote, the moderator simply asked: "Is that what you would tell to the 10-year-old?" "That's what I just told John," he replied, big grin plastered on his face (see below). 
Check out the video (skip to 44:00 for same-sex marriage discussion), AFTER THE JUMP…