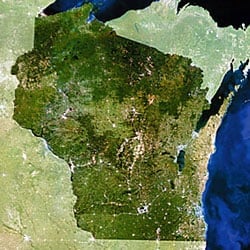 Dane and Outgamie Counties in Wisconsin have begun issuing marriage licenses to Gay couples, WBAY reports. "Brown County, Calumet County and Fond du Lac County say they are waiting for more guidance from the Wisconsin Attorney General's Office."
Also:
The Wisconsin Attorney General's Office says they will work with clerks as couples as the office's legal fight to uphold a voter-approved ban on gay marriage ends. They released this statement:
"Today's action by the U.S. Supreme Court allows Judge Crabb's order to take effect. The Department, having made every effort to fulfill its duty to defend the state constitution, will now work with its state agency clients to implement the order."
A spokesperson for Gov. Scott Walker (pictured) released this statement:
"Our office is working with the Department of Justice to evaluate the impact of the Supreme Court's decision and determine next steps for the state."
Dane County is home to Madison. Outgamie is home to Appleton.
UPDATE: Milwaukee and Waushara Counties will begin issuing licenses today as well.