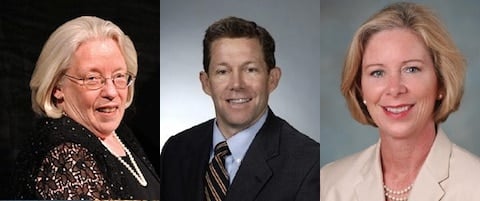 The U.S. Court of Appeals for the Sixth Circuit has just issued a ruling upholding the bans on same-sex marriage in Michigan, Kentucky, Ohio, and Tennessee.
The decision was 2-1, with Judges Jeffrey Sutton [middle] and Deborah Cook [right] upholding the bans while Judge Martha Craig Daughtry dissented. 
In September, Justice Ruth Bader Ginsburg suggested people look to the Sixth Circuit's decision as an indicator for SCOTUS action on the constitutionality of same-sex marriage. The AP reported at the time:
[Ginsburg] said 'there will be some urgency' if [the Sixth Circuit] allows same-sex marriage bans to stand. Such a decision would run contrary to a legal trend favoring gay marriage and force the Supreme Court to step in sooner, she predicted. She said if the appeals panel falls in line with other rulings there is 'no need for us to rush.'
SCOTUSblog reacts:
SSM advocates face dilemma of whether to ask full 6th Circuit to hear the case; will be tempted to go to SCOTUS, but not required.

— SCOTUSblog (@SCOTUSblog) November 6, 2014
Our legal editor Ari Ezra Waldman wrote a great breakdown of the oral arguments in the cases before the Sixth Circuit back in August. Stay tuned later this afternoon for his analysis on this breaking news.  
Here's the ruling via Equality Case Files.