Kabir Ahmed, a British Muslim extremist who was convicted in 2012 of inciting anti-gay hate, has reportedly died while carrying out a suicide bombing in Iraq, Sky News reports: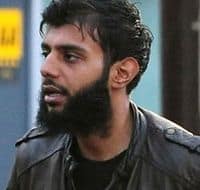 Ahmed is reported to have been one of several suicide bombers who carried out an attack on an Iraqi police convoy in the northern town of Baiji.
Eight people were killed, including senior police officer Lt Gen Faisal Malik Zamel, who was in the town to inspect local forces.
On a Twitter account claimed to be written by a jihadist named Abu Hussain al Britani, Ahmed was hailed for the attack.
"My brother Abu Sumayah Britani (kashmiri) done a martyrdom op in iraq killing a top iraqi commander and many regime soldiers! ALLAHU AKBAR," the post said.
BBC adds:
Earlier this year Ahmed told the BBC's Panorama programme that he was on a "waiting list" to be a suicide bomber, adding: "Everybody's got their name on the list… everybody wants to fight."
He had been jailed in the UK, alongside two others, in 2012 after being found guilty of stirring up hatred on the grounds of sexual orientation.
He had handed out a leaflet calling for homosexuals to be executed, saying he was doing his "duty as a Muslim".
The station notes that if Ahmed's death is confirmed, he would be the second British jihadist suicide bomber.