Alliance Defending Freedom has produced a book to convince churches that laws preventing businesses from discriminating against gay customers are part of a wider aim to "compel Christians to accept, endorse, and even promote an ideology and behavior that violates their faith."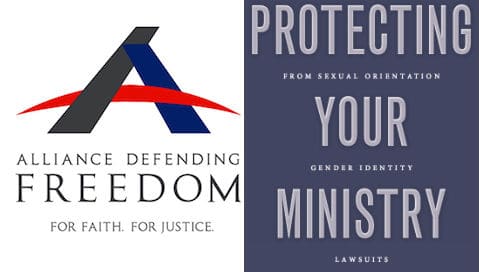 Ramping the fear-mongering up a notch, anti-gay litigation group Alliance Defending Freedom (ADF) has produced a 44-page tome that attempts to convince churches that laws preventing businesses from discriminating against gay customers are actually part of a wider aim to "compel Christians to accept, endorse, and even promote an ideology and behavior that violates their faith."
ADF is one of a number of organizations and individuals involved in promoting harmful anti-gay laws abroad, as exposed by Human Rights Campaign's Export of Hate report.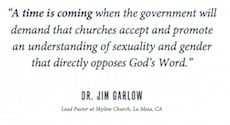 According to ADF, the new book Protecting Your Ministry aims to help churches prepare "for the legal intrusions and onslaughts that have already engulfed some of your fellow believers and Christian leaders around the country."
It argues that "those advocating for homosexual behavior and transgender ideology will eventually target anyone who blocks the path of their political progress – including you and your ministry."
Helpfully, it also provides a step-by-step "action plan" on how to deal with "marriage counterfeits and those advocating for complete sexual license."
The book then goes on to profile a number of cases in which anti-gay business owners faced litigation for refusing to work with same-sex couples, including Robert and Cynthia Gifford, the owners of Liberty Ridge Farm in New York.
To make it clear that ADF doesn't really hate gay people, the book concludes with a message of hope and inclusion:
"Preparing yourselves legally will give your group or institution greater freedom to continue presenting the Gospel clearly and effectively to your community – and that freedom may well make an eternal difference for lost and hurting souls all around you."
ADF just wants to help you to see the error of your ways.
Read the book, if you can stand it, AFTER THE JUMP…