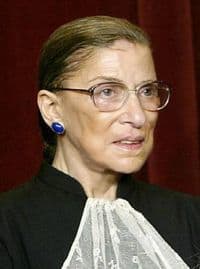 Supreme Court Justice Ruth Bader Ginsburg, leader of the high court's liberal wing and beloved by many as the 'Notorious RBG' after her scathing dissent in Burwell v. Hobby Lobby, underwent heart surgery this morning after experiencing discomfort while exercising Tuesday night. CNN reports:
Supreme Court Justice Ruth Bader Ginsburg, 81, underwent a heart procedure Wednesday morning to have a stent placed in her right coronary artery.
A blockage was discovered after Ginsburg "experienced discomfort during routine exercise" Tuesday night and was taken to the hospital, according to a release from the Supreme Court.
Ginsburg is resting "comfortably" at MedStar Washington Hospital Center and is expected to be released in the next 48 hours.
As The Wall Street Journal notes, Justice Ginsburg is the court's eldest member and has also faced two bouts with cancer, having recovered from each. She previously balked at speculation that she would retire during President Obama's tenure so Obama could fill her vacancy with a liberal judge:
Who do you think President Obama could appoint at this very day, given the boundaries that we have? If I resign any time this year, he could not successfully appoint anyone I would like to see in the court. [The Senate Democrats] took off the filibuster for lower federal court appointments, but it remains for this court. So anybody who thinks that if I step down, Obama could appoint someone like me, they're misguided. As long as I can do the job full steam…I think I'll recognize when the time comes that I can't any longer. But now I can.