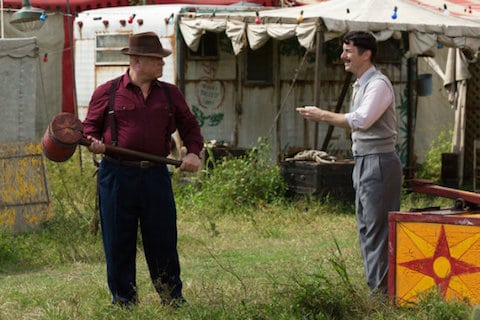 Oh, no. Have we reached that part of the season where American Horror Story starts to run completely off the rails? I think so.
With the con artists, the twins, the rich psychopath and the strongman/bearded lady/"lobster boy" family dynamic, did we really also need the entire story about the candy striper? She was a character who seemed like a throway when she was sloppily introduced in episode one. Do we even know why she hates her dad so much? Like, what did he do, really?
It just feels very, very unnecessary to reinforce the idea that it's the non-freaks who are truly scary; a theme with which Ryan Murphy has beaten us over the head already throughout this season (and past seasons and even his other shows). Still, there were some juicy bits tonight (especially with Denis O'Hare's scheming Stanley). Overall, however, not a great showing.
Find out more on Grace Gummer's candy striper and all the big happenings from the most recent episode, AFTER THE JUMP …
We pick up with Jimmy (Evan Peters)'s arrival at Chateau Mott. He wants to see the twins and make sure they're OK. Although Gloria (Frances Conroy) and Dandy (Finn Wittrock) swear they are being well cared for. They've got all the caviar, foie gras and cognac in crystal baby bottles they could ask for!
Jimmy's still not convinced. Bette (Sarah Paulson) tells Jimmy he's so silly for lying about that whole killing the killer clown thing, because, see, Dandy said he was the one who really did it. That sets a little bell off that maybe Dandy was that second killer clown who tried to saw Maggie/Esmerelda (Emma Roberts) in half. Once Dandy spills that he's been reading the girls' diaries, Dot (also Sarah Paulson) agrees that it's best they go back to Elsa's. Bette, despite her love of Dandy and all that caviar, sides with her sister and they head back. Dandy, as you could imagine, is not pleased.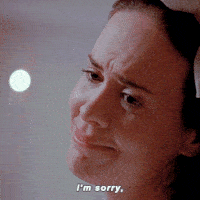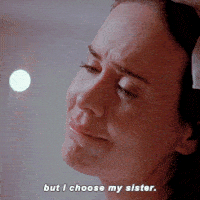 They get back to the tent and Jimmy sings "Come As You Are" originally by Nirvana, because tumblr apparently needed more reasons for sweaty goth teenagers to freak out about Evan Peters. I found these anachronistic musical numbers sort of charming at first, especially when they came from Elsa (Jessica Lange), whose desperate diva routine would make sense to be based in song. However, at this point, the gimmick is wearing awfully thin.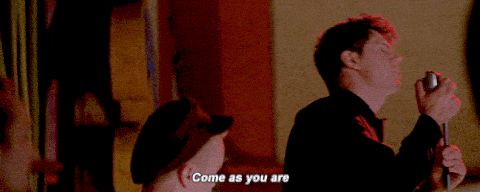 Anyway, he sings his song and, like me, Elsa is not impressed. When she tries to share her notes, he fires back that she is a liar. He knows what really happened to those twins. Elsa sold them into slavery! Let's bring them out!
Gasp!
But … actually? The twins come out and Dot covers for Elsa, claiming they asked to be sold to the Motts so that they could experience all the trappings of high society. Of course, this little fib comes at a price. For saving Elsa's reputation among the performers, Bette wants to become a comedian, dye her hair blonde, oh, and also get 20 percent of the box office. And what about Dot? Fifty percent.
Elsa's no dummy though. She discretely slips Dot a note to figure out what her plan really is. (As an aside, anyone care to explain how the twins' telepathy works? I can buy that Bette didn't notice Dot reading Elsa's note because she was sleeping, but I do not see how Dot would get paper and an envelope, write a reply and send it via Pepper without Bette taking notice.) Through these notes, Dot explains to Elsa that she wants that surgery.
She takes this info to Stanley (Denis O'Hare) in the hopes that shuffling these two off to the doctor in Chicago could be a good way to get them out of her hair. Yes, sure, Stanley ponders, but have you thought of, I don't know, just spit balling here, but what about a mercy killing? Intriguing!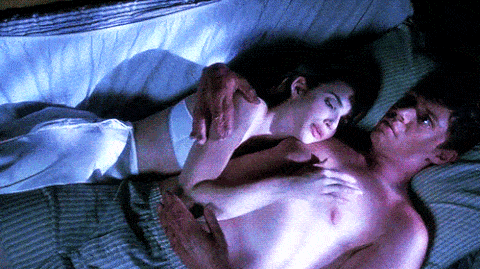 Jimmy is still unsettled by the whole situation. Even though Maggie/Esmerelda wants to runaway RIGHT NOW (before Stanley can kill Jimmy), he feels like he needs to stick around.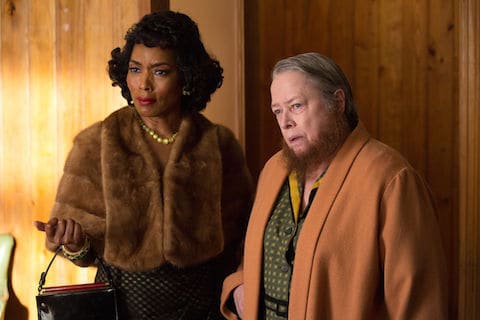 Maybe that Chicago surgeon can help out Desiree (Angela Bassett) and Ethel (Kathy Bates). It seems that after Dell (Michael Chiklis) visited their doctor and crushed his surgeon hands, the old man killed himself. The doc's daughter is there packing up, and furiously sends "the freaks" out of her late father's office.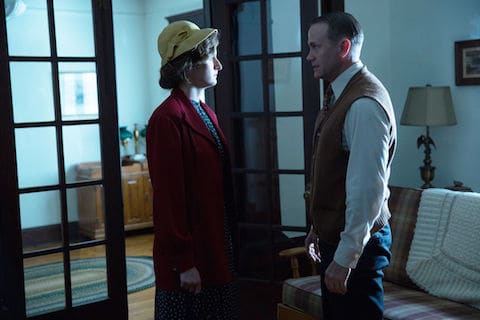 Speaking of fathers, remember Penny, the candy striper (Gummer)? Well, she's back, and apparently, more important than anyone thought. She's been nursing Paul (Mat Fraser) back to health. She stops home to grab a few things before moving to the campgrounds full time, but her dad is waiting, and he is not happy. Penny gives him a whole mouth full of sass, but he remains relatively cool. He explains that he will not let her ruin his good name. Then he introduces his friend, the tattoo artist. The both of them somehow knockout Penny and then shave the middle of her head, fork her tongue and cover her face with tattoos. She wanted to be a freak? Well, she got her wish. When she arrives back at Paul's bedside, he sees her and weeps. It's all his fault!
They're still a luckier pair than Dell and Andy (Matt Bomer). Dell's been knocking around the local gay bar, looking for Andy (whom, as you may recall, was murdered by Dandy). He's caught by Stanley, who threatens to out him unless Dell can kill one of the performers and give him the body.
Caught between a rock and a gay place, Dell first sets his sights on Amazon Eve (Erika Ervin). Probably not the first performer I would target, and with good reason. He tries to come at her while she's sleeping, but she completely beats the living hell out of him. She tells the others, and Ethel wants everyone to come together and kill Dell. However, Jimmy thinks he can reason with him and get Dell to leave without any more bloodshed.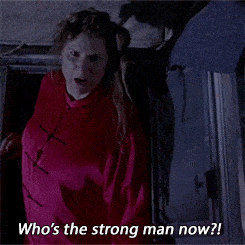 So the two go out drinking. And drinking. And, eventually, dranking. They're wasted, basically. Jimmy rushes out to the alley to puke, while Dell picks up a brick to bash Jimmy's head in. But! Then! Jimmy blurts out that he knows Dell is his father. He knew because Ethel hated him so much, and also because he asked the old folks around Fraulein Elsa's. He knows that Dell's dad and brothers also had ectrodactyly. Dell drops the brick and hugs his son.
They come stumbling back to the grounds and try to tell Elsa how the boys are starting to stick up for themselves around here. Then, Dell tucks Jimmy in. "Goodnight, Dad."
That still leaves Dell short one body. So he turns to Ma Petite (Jyoti Amge). He wakes her up (which I guess happens to her a lot, since she always awakens so happy), and he presents her with a new gift. She puts it on, and, when she goes to give him a thank you hug, he murders her.
Flash forward (I assume), and we see Ma Petite on display in the oddities museum. R.I.P., Ma Petite.
What did you think of tonight's episode?