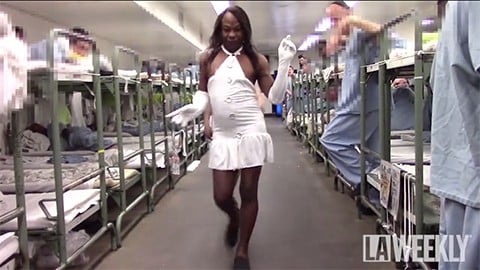 In an in-depth piece published today, LA Weekly goes inside "K6G," the gay wing of Men's Central Jail in Los Angeles and looks at what life is like for its 400 inmates. Those who have been and are currently inmates here talk openly about how different the culture is in K6G and how the fear of violence and abuse are all but eliminated in what is an anomaly in the world of incarceration:
Duncan Roy, a gay British film producer who was held in K6G for 89 days without bail in 2012, under ex–Sheriff Lee Baca's controversial interpretation of "immigration holds," recalls, "In other parts of the jail, you try and smuggle in drugs and cigarettes. That didn't happen in our wing.
"If you were going to smuggle something in, it would be dresses and bras."
The gay wing at Men's Central Jail is an exceptionally rare, if not unique, subculture, the only environment of its kind in a major U.S. city. Nothing like it exists in America's 21 largest urban jails, all contacted by the Weekly, where officials described in far more modest terms their own steps to deal with and house gay inmates. San Francisco has a transgender holding tank, but gay inmates live among the general population. In New York's Rikers Island, whose similar gay wing was shuttered in 2005, a jail spokesman laughed out loud, saying that whoever decides which men get placed in L.A. County's gay jail wing "must have really good gay-dar."
Indeed, the jail does have a screening process it uses to try and screen individuals. Those looking to be placed in K6G are asked to name a local gay bar they often visit. If they do this correctly, Deputy Sheriff Javier Machado, moves on to "tougher follow-up questions, such as, 'What's the cover charge?'"
The most prevalent reason why straight inmates may want to seek placement in K6G? Safety:
The gay wing is a far less dangerous, more humane place to be. Unlike the angry, racially polarized culture of Men's Central Jail, in K6G many of the inmates help one another face their days, and sometimes their years, together.
Watch a video from LA Weekly providing a look at life in K6G, AFTER THE JUMP…
EXCLUSIVE: Inside the Gay Wing of L.A. Men's Central Jail from Voice Media Group on Vimeo.